2016 Data Storage Security Summit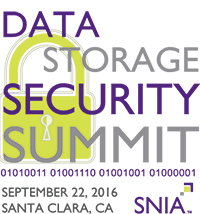 ---
Co-located with the Storage Developer Conference
September 22, 2016
Hyatt Regency Hotel, Santa Clara, CA
---
Save the Date
The 2016 Data Storage Security Summit will take place on September 22, 2016 at the Hyatt Regency Hotel in Santa Clara, CA. The Summit is currenlty in its early planning stages. Please check back for any updates.
Speak at Data Storage Security Summit - Call for Presentations is Now Open!
The Data Storage Security Summit is now seeking IT professionals willing to share their knowledge and experience by submitting a presentation proposal for consideration. The deadline is June 6th.
Summit Overview
The 2015 Data Storage Security Summit was a success, educating attendees and offering clear insights into important storage topics. 
Get an overview of the 2015 Storage Security Summit! View this webcast featuring an interactive discussion with the subject matter experts who have organized the DSS Summit. View the webcast below. Download the slides here.
Sponsor the 2016 Summit
Interested in Sponsorship for our Summits? Entitlements include complimentary passes and speaking opportunities. Download the Sponsorship Brochure here.
Registration
Coming soon.
Data Storage Security Summit 2015 Highlights Video
Here is the highlight reel of SNIA's 2015 SDC Conference and Data Storage Security Conference!
View the 2015 General Sessions On-Demand!
If you could not attend the 2015 Summit in person, you can still view sessions!. View presentations available though on-demand here.