Storage Industry Summit - Realizing the Benefits of the Convergence of Storage and Memory
Tuesday, January 20, 2015
San Jose, California
Co-located with the SNIA Annual Members' Symposium in San Jose, SNIA is pleased to offer a one-day summit on Tuesday, January 20, 2015 , on Non-Volatile Memory that offers critical insights into NVM and the future of computing.
Registration
On-line registration for the Storage Industry Summit - Non-Volatile Memory (NVM) is now closed. Please register onsite for this event.
Hotel Information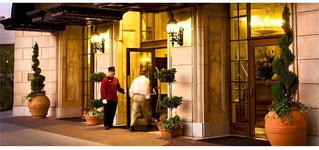 Sainte Claire Hotel
302 South Market Street
San Jose, CA 95113
408-295-2000
Hotel Reservations
To make a reservation for the Saint Claire Hotel, call 888-298-7185.
2015 Storage Industry Summit (NVM) Agenda
Tuesday, January 20, 2015

7:45 AM - 8:30 AM
Symposium Continental Breakfast and Networking
8:30 AM - 8:45 AM
Symposium and Summit Welcome and Kick-off
David Dale, SNIA Chairman
8:45 AM - 9:25 AM
Symposium and Summit Keynote: 2030 - The Computer is the Memory
Jim Handy, Analyst, Objective Analysis
Tom Coughlin, President, Coughlin Associates
Download Presentation
9:25 AM - 9:30 AM
Symposium Attendees Leave for Sessions
9:30 AM - 10:00 AM
How Persistent Memory Will Change Our Approach to Computing
Jim Handy, Analyst, Objective Analysis
Download Presentation
10:00 AM - 10:30 AM
Developments with the NVM Programming Model
Walt Hubis, Hubis Technical Associates
Download Presentation
10:30 AM - 10:45 AM
Coffee and Networking Break
10:45 AM - 11:30 PM
Hyperscale Cloud Solutions are Right for Enterprise Clouds Too
Jim Pinkerton, Microsoft
Download Presentation
11:30 AM - 12:00 PM
NVM Technology and New Storage Taxonomy
Ahmed Shihab, VP and Chief Architect, NetApp
Download Presentation
12:00 PM - 12:50 PM
Lunch 
12:50 PM - 1:50 PM
Analyst Panel: The Economics of NVM
Moderator: Mark Peters, Enterprise Storage Group (ESG)
Panelists: Matt Bryson, ABR Investment Strategy
Jeff Janukowicz, IDC
Don Jeanette, Trend Focus
Mark Newman, Bernstein
Download Presentation
1:50 PM - 2:50 PM
NVM Futures Panel: Are We Near the Beginning of a New Solid State Epoch, or Is That Just a Big Fireball in the Sky?
Moderator: Tom Coughlin, Coughlin Associates
Panelists: Dave Eggleston, Intuitive Cognition Consulting
Barry Hoberman, Spin Transfer Technologies
Tanmay Kumar, Crossbar
Joseph O'Hare, Everspin
Saul Zales, Contour Semiconductor
Download Presentation
2:50 PM - 3:05 PM
Coffee and Networking Break
3:05 PM - 3:35 PM
OEM Perspective
Alan Johnson, Supermicro
Download Presentation
3:35 PM - 4:20 PM
NVDIMM Panel: NVDIMMs - Supercharging Storage in Data Centers
Moderator: Arthur Sainio, Smart Modular
Panelists: Reza Bachus, Hewlett-Packard
Eden Kim, Calypso Systems
Tom McKnight, Nimble Storage
Download Presentation
4:20 PM - 4:50 PM
Processor Support for the NVM Programming Model
Andy Rudoff, Intel
Download Presentation
4:50 PM - 5:20 PM
Using NVM in a C Application
Bill Bridge, Oracle
Slides - Download Presentation
Notes - Download Presentation
5:20 PM - 5:30 PM
Wrap-up and Adjourn
David Dale, SNIA Chairman
NVM Summit Underwriters