SNIA Swordfish™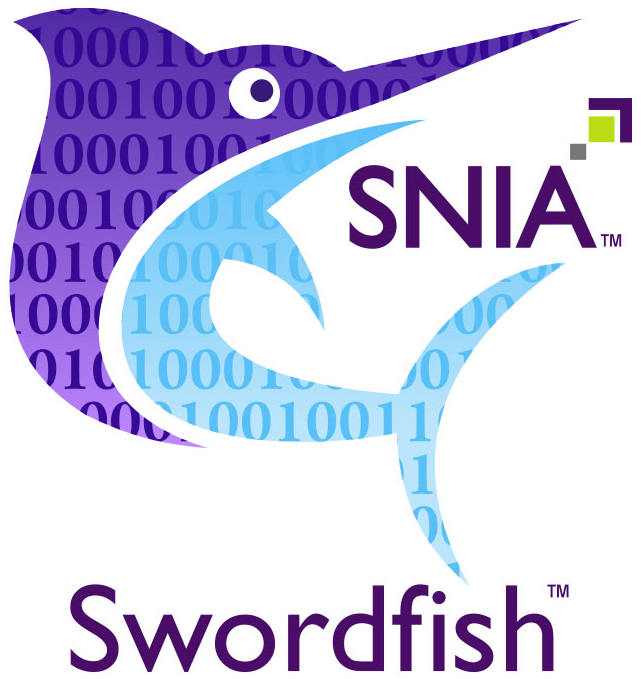 The SNIA Swordfish™ specification helps to provide a unified approach for the management of storage and servers in hyperscale and cloud infrastructure environments, making it easier for IT administrators to integrate scalable solutions into their data centers. SNIA Swordfish is an extension of the DMTF Redfish specification, so the same easy-to-use RESTful interface is used, along with JavaScript Object Notation (JSON) and Open Data Protocol (OData), to seamlessly manage storage equipment and storage services in addition to servers.
SNIA Swordfish is designed to integrate with the technologies used in cloud data center environments and can be used to accomplish a broad range of storage management tasks from the simple to the advanced.
SNIA Swordfish has been designed around management use cases that focus on what IT administrators need to do with storage equipment and storage services in a data center. As a result, the API provides functionality that simplifies the way storage can be allocated, monitored, and managed.
View an Introduction to SNIA Swordfish (PDF).
ONLINE DOCUMENTATION
SNIA SWORDFISH SPECIFICATIONS
| | | | |
| --- | --- | --- | --- |
| Version | Title | Release Date | Comments |
|   |   |   |   |
| v1.0.2 | SNIA Swordfish Specification | 16 November 2016 | See v.1.0.2a for Schema update in ZIP file bundle below |
| V1.0.1 | SNIA Swordfish Specification | 16 October 2016 |   |
| V1.0.0 | SNIA Swordfish Specification | 19 September 2016 |   |
SNIA SWORDFISH USER'S GUIDE
ONLINE SCHEMA
The following files are the primary Swordfish schemas defined for JSON resources conforming to the Redfish Specification. Each schema definition is available in both CSDL (XML) and json-schema formats.
http://redfish.dmtf.org/schemas/swordfish
SUPPORTING MATERIALS
SNIA SWORDFISH MOCKUPS
SNIA SWORDFISH WORKS IN PROGRESS (.ZIP File bundles)
| | | | |
| --- | --- | --- | --- |
| Version | Title | Release Date | Comments |
| v1.0.2a | SNIA Swordfish Work in Progress | 18 November 2016 | Schema update |
| v1.0.2 | SNIA Swordfish Work in Progress | 16 November 2016 |   |
| v1.0.1 | SNIA Swordfish Work in Progress | 16 October 2016 |   |
| v1.0.0 | SNIA Swordfish Work in Progress | 19 September 2016 |   |
For more information: