Solid State Storage Initiative
Welcome to the Solid State Storage Initiative (SSSI), dedicated to fostering the acceptance and growth of Solid State Storage (SSS) in the marketplace.  To achieve those goals, SSSI provides education, performs market outreach, and influences / promotes standards.
Performance
 SSSI is leading the way in understanding and quantifying SSS performance.
SSDs behave very differently than HDDs, and standard HDD benchmarks will not provide a true picture of SSD performance.  SSSI has developed substantial expertise in the area of SSD performance and behavior.  The SSS Performance Test Specification was developed by the SNIA SSS Technical Work Group (TWG) and defines how to measure SSD performance in a manner that is accurate, repeatable and enables comparison between different manufacturers' products.
The SSS PTS consists of two separate, precisely targeted specifications for Enterprise and Client.  The specifications are available here.
A testing service based on the SSS Performance Test Specification is available.  Details on the service are available here. 
Resources
For More Information
May 26, 2015 - JEDEC Announces Support for NVDIMM Hybrid Memory Modules. JEDEC's JC-45 Committee has approved the first standards for support of "hybrid" DDR4 memory modules which are defined as modules that plug into standard dual in-line memory module (DIMM) sockets and appear like a DDR4 SDRAM to the system controller, yet contain non-volatile (NV) memories such as NAND Flash on the module. Features a quote from the Co-Chairs of the SSSI NVDIMM Special Interest Group. 
January 20, 2015 - SSSI co-sponsored the NVM Storage Industry Summit at the Sainte Claire hotel in San Jose.  Presentations may be downloaded
here
.
January 4, 2015 - The SNIA NVM Programming Technical Work Group received the 2015 Professional Storage Development Visionary Award at Storage Visions, the storage conference of the Consumer Electronics Show.  The Award was in recognition of the TWG work on creating next generation programming models. Accepting the Award on behalf of the TWG from Storage Visions founder Tom Coughlin is Paul Wassenberg, SSSI Chair. Congratulations!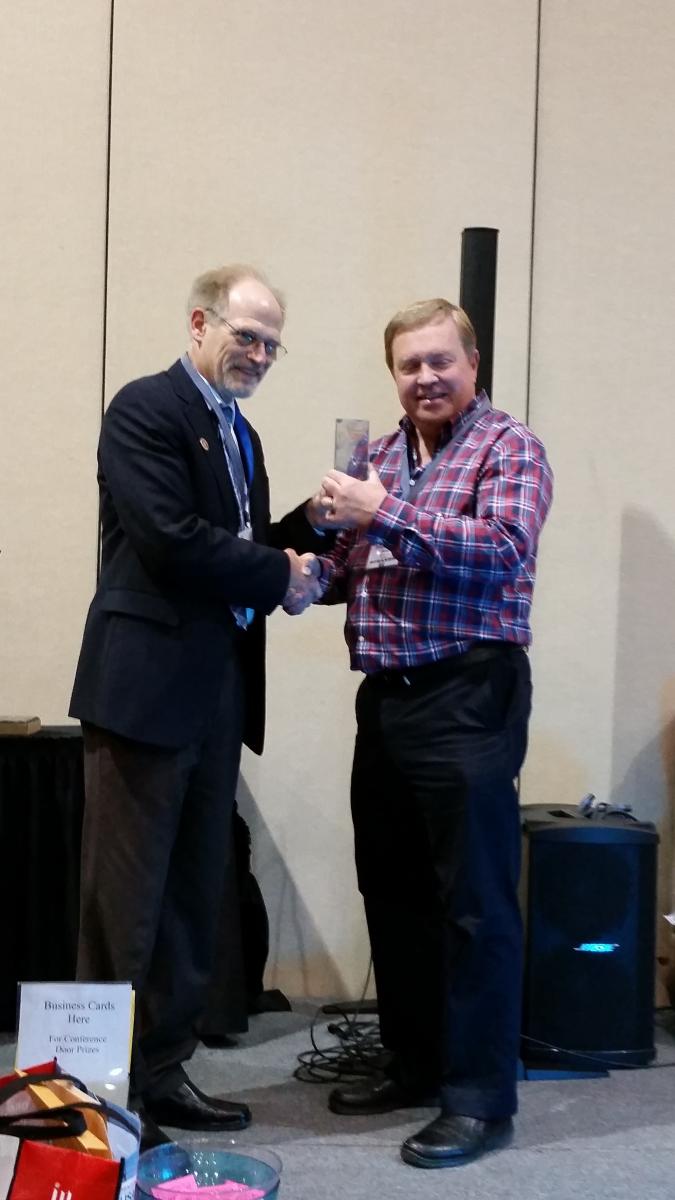 January 4-5, 2015 - SSSI participated at the Storage Visions conference.  NVDIMM SIG members SMART Modular and Netlist demonstrated NVDIMM;  SSSI members Intel, Micron, and Samsung  displayed PCIe SSDs; and Sandisk displayed an UltraDIMM solution.  
November 11-13, 2014 - SSSI had a booth at the Open Server Summit in the Santa Clara Convention Center.  Featured were live demonstrations of NVDIMM applications and displays of NVDIMM and PCIe SSD solutions.
August 6, 2014 - SNIA NVM Programming Model Selected by Flash Memory Summit as a 2014 Best of Show Award Winner, recognized as the Most Innovative Flash Memory Enterprise Business Application
July 24, 2014 - New Solid State Programs Featured at Flash Memory Summit 2014. Non-Volatile NVDIMM SIG officially joined the SNIA Solid State Storage Initiative, demonstrating latest NVDIMM solutions in the booth, at a Hands-On Lab, and in educational conference sessions. A FMS Software Forum featured presentations on the NVM Programming Model
October 14, 2013 - SSSI Brings Six New and Improved Programs to Enhance SSD Understanding, including launch of the SSD Features Rating Project to better understand what users expect of SSDs and programming models to enable software to take advantage of NVM features
August 19, 2013 - At Flash Memory Summit 2013, SSSI released two new white papers on SSD Performance and PCIe 101, and two user guides on the PTS Test Specification and the Workload I/O Capture Program. Download them HERE
June 10, 2013 - SSSI webcast - How Many IOPS is Enough?, featuring the SSSI WIOCP project, on the SNIA BrightTalk Channel
May 29, 2013 - New Version Enterprise SSD Performance Test Specification Releasedby SNIA Solid State Storage Initiative; included in the release is information on the updated Reference Test Platform, and a SSSI endorsed SSD Testing Service
January 4, 2013 - The SSSI showcased new technical and educational work at the Storage Visions 2013 Conference
To read older SSSI news, visit our News Archive
Solid State Storage Essentials
SSD Data Recovery & Erase
Performance
NVM
PCIe SSD
More about SSSI