2013 Storage Developer Conference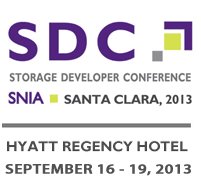 Mon, 2013-09-16
to
Thu, 2013-09-19
Hyatt Regency Santa Clara
Now in its 10th year, and again expected to draw more than 250 developers and engineers, the Storage Developer Conference (SDC) is the only event created by storage developers for storage developers.
The audience for this conference (expected to be nearly 400 participating in over 50 sessions in multiple tracks) comprises the IT storage development community — primarily storage software and hardware developers, storage product and solution architects, storage software engineers, product managers, storage product quality assurance engineers, product line CTOs, storage product customer support engineers, and in-house IT development staff. In addition to software and hardware vendors, end user IT managers/directors and staff will find the expertise required to select, implement, and then support storage and information management applications. 
Register along with your colleagues for this year's premiere storage development event and qualify for some special group packages. Register by August 16th and get $300 off the regular price.
Save the date for SDC 2013: Click here to add SDC 2013 to your calendar.