SNIA's 2017 Annual Members Meeting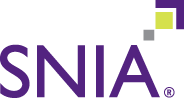 SNIA members are cordially invited and encouraged to participate in our Annual All Members Meeting. Mark your calendar: Thursday, October 12th at 8:00am - 9:00am Pacific Time. Join the SNIA Board, Chairman, Treasurer, and Executive Director as they announce the newly elected Board and Technical Council members. They will share an update on the organization's technical and initiative/forum work, financial status, and strategy for the future of SNIA and the storage industry! Voting Member Company Representatives are specifically requested to join this call.
Teleconference/WebEx coordinates:
1.      Go to: snia2.webex.com
2.      Click on the meeting name: SNIA Annual Members Meeting
3.      Type in your name, email address, and meeting password (2017)
4.      Click "Join Now"
5.      If you are calling in using VoIP then click on "Call Using Computer" or "Use the Internet"
If you are calling in using a phone then click on "I will Call In".  This will display the phone number, access code and Attendee ID number you need to use to join the meeting. Once you have this information:
a)         Dial the Toll Number: 415-655-0002
b)         Enter the meeting access code 668 734 018#
c)         When asked for Attendee ID number just press the <Attendee ID> followed by '#'.