Become a Member
SNIA's mission is to lead the storage industry worldwide in developing and promoting vendor neutral architectures, standards, and educational services that facilitate the efficient management, movement, and security of information. As a member of SNIA, you can contribute to a far-reaching variety of activities.
Today, our 2,500 active contributing members from 170 industry leading organizations contribute to: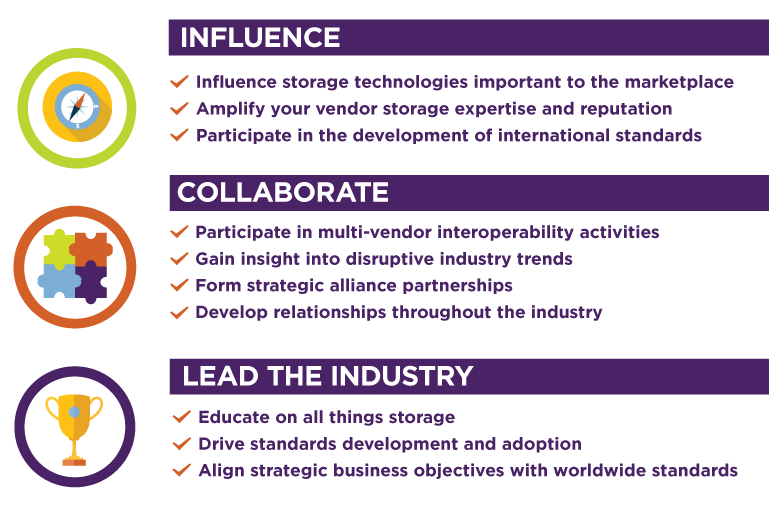 Testimonial
"SNIA is the single-stop organization to get a sense for all storage, information management, and data related advancements in the Industry. If you seek to influence in any of these areas, you should be involved with SNIA."
Jim Pappas Director of Technology Initiatives
Intel Corporation
Vice Chairman, SNIA
Join SNIA
A new membership structure and fees has taken effect as of December 1, 2018.
Read more about the new structure and fees in a letter from SNIA Executive Director Michael Oros.
Member
A Member is in the business of manufacturing, licensing, servicing, consulting, designing, researching/publishing, using or selling software, specifications, architecture, hardware or services related to storage or storage networking systems or technologies.
CATEGORY
Yearly Fee
Voting
Non-Voting
Member revenue greater than $600M
$42,000
Join Now
$18,000
Join Now
Member revenue  >$150M - $600M
$25,000
Join Now
$12,000
Join Now
Member revenue  >$20M - $150M
$18,000
Join Now
$9,000
Join Now
Member revenue $0 - $20M
$9,000
Join Now
$4,000
Join Now
Startup - revenue is less than $10M/year AND in business less than 4 years
N/A
 
$1,000
Join Now
End User
An End User is an organization that is the ultimate final consumer of a product or service, and is typically represented by the IT department of an organization. End users may join as dues paying customer company members or as individual members.
CATEGORY
Yearly Fee
Non-Voting
Customer Company
$1,000
Join Now
Individual
$300
Join Now
Non-Profit/Educational Institution
The SNIA grants complimentary access to qualified Non-Profit /Educational Institutions. "Non-Profit Institution Member" is defined as an accredited non-profit institution that agrees to comply with the SNIA Membership Agreement. An "Educational Institution" is defined as any accredited higher-learning institution. Please contact membership@snia.org for consideration.
CATEGORY
Yearly Fee
Non-Voting
Non-Profit
$0
Join Now
Technology Affiliate
A Technology Affiliate member is a restricted voting membership specific to a technology domain, focused on technical specifications and interoperability. A Technology Affiliate member does not need to be a full member of SNIA.
CATEGORY
Yearly Fee
Non-Voting
SFF TA TWG
$1,800
Join Now