2016 Data Storage Security Summit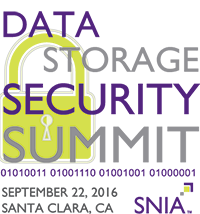 ---
Co-located with the Storage Developer Conference
September 22, 2016
Hyatt Regency Hotel, Santa Clara, CA
---
2016 Data Storage Security Summit a Success
SNIA's second annual Data Storage Security Summit focused on the important work SNIA Security and the industry is doing  to enhance information assurance  and optimize security investments.  Fifteen sessions made for a full day, with plenty of time for networking and discussion on data security in a flash world, deploying encryption and key management, the Apple vs FBI debate, and storage security conundrums.  Presentations given in the sessions are available on the DSSS website.  Thanks to DSSS underwriters Cryptsoft, Enova, and Hitachi Data Systems for their support of the Summit.  
View the 2016 and 2015 Summit General Sessions On-Demand!
2016 Data Storage Security Summit keynotes covered the  changing standard of care for storage , the  intersection of IoT and security, key management and the storage eco-system, and security of high valued content.   And general session panels brought key leaders together to discuss storage enterprise key management and server enterprise key management.  Each keynote session is now available on demand - just click the title links above.
The 2015 DSS Summit sessions are also available on demand - view presentations available though on-demand here.
Agenda
Thursday, September 22, 2016

7:30 - 8:00
Registration, Continental Breakfast and Networking with Peers and Sponsors
8:00 - 08:05

Data Storage Security Summit Welcome
Eric Hibbard, Chair SNIA Security Technical Working Group, CTO Security and Privacy HDS
Tony Cox, Chair SNIA Storage Security Industry Forum, Chair OASIS KMIP Technical Committee

8:10 - 8:40
The Changing Standard of Care for Storage
Eric Hibbard, Chair SNIA Security Technical Working Group, CTO Security and Privacy HDS
Download Slides
8:45 - 9:25
Internet of Things, Big Data, Storage Security and...The New Vectors for Product Liability and Class Actions
Steve Teppler, Partner, Abbott Law Group
Download Slides
9:30 - 10:15
Panel: Storage & EKM: The Real Story – Q&A with KMIP Storage Vendors
Moderator: Tony Cox, Chair SNIA Storage Security Industry Forum, Chair OASIS KMIP Technical Committee

Panelists:
Tim Chevalier, MTS, NetApp
Sherif Fares, Senior Security Product Manager, Hitachi Data Systems
Chuck White, CTO, Fornetix
Download Slides

10:15 - 10:30
Break - Networking with Peers and Sponsors
10:30 - 11:10
Key Management and the Storage Eco-system
Tim Hudson, CTO, Cryptsoft
Download Slides
11:15 - 11:55
Managing Data Security for Storage of High Value Content
Robert Wann, Founder, President & CEO, Enova Technology Corporation
Download Slides
12:00 - 12:40
Panel: Enterprise Key Management: The Real Story - Q&A with EKM Server Vendors
Moderator: Tony Cox, Chair SNIA Storage Security Industry Forum, Chair OASIS KMIP Technical Committee

Panelists:
Liz Townsend, Director of Business Development, Townsend Security
Bob Lockhart, Chief Solutions Architect - Thales e-Security
Nathan Turajski, Sr. Product Manager, HPE Security
Rick Robinson, Offering Manager, Encryption and Key Management, IBM Security
Download Slides

12:40 - 1:40
Lunch and Networking with Peers and Sponsors
 
Track 1
Track 2
1:40 - 2:15
Data Security in an All Flash Storage World

Ashvin Kamaraju
VP Product Development,
Vormetric
Download Slides

Data Valuation to Minimize Monetary Loss

Steve Todd
EMC Fellow,
EMC
Download Slides

2:20 - 3:00
Experiences of Deploying Encryption and Key Management in Private, Public and Hybrid Cloud Environments

Steve Pate
Chief Architect,
HyTrust
Download Slides

Panel: Data Security Versus Recovery (think: Apple/FBI): Is There a Win/Win?

Moderator:
Michael Willett, Drive Trust Alliance

Panelists:
Robert Thibadeau, Drive Trust Alliance
Thomas Rivera, Hitachi
Chris Bross, DriveSavers
Download Slides

3:00 - 3:15
Break - Networking with Peers and Sponsors
3:15 - 4:25
Storage Security Conundrums

Eric Hibbard
CTO Security & Privacy,
Hitachi Data Systems

Tim Hudson
CTO,
Cryptsoft
Download Slides

Have Your Cake and Eat It Too: Searchable Encryption

Srinivasan Narayanamurthy
Member Technical Staff,
NetApp
Download Slides

4:30 - 5:15
Storage as IoT

Walt Hubis
Principal,
Hubis Technical Associates

Tom Coughlin
President,
Coughlin Associates
Download Slides


Privacy vs Data Protection: The Impact of EU Data Protection Legislation

Thomas Rivera
Sr. Technical Associate,
HDS
Download Slides

5:15
Sessions Conclude
---
Sponsors and Partners of the 2016 Data Storage Security Summit Include:
(as of 8/25/2016)
Summit Underwriter

Media Partner and Broadcast Provider

Association Partners