Storage Virtualization: The SNIA Technical Tutorial
"Storage virtualization" has become the buzzword in the storage industry, especially with the increased acceptance of storage networks. But besides all the hype, there is considerable confusion, too.
Many users have been disconcerted by the terminology, the different ways in which vendors present virtualization, and the various technical implementations of storage virtualization. In addition, the two alternative approaches to virtualization based on in-band and out-of-band technologies have resulted in much discussion about the pros and cons of the two technologies. Needless to say, in many cases thee discussions have generated more "heat than light" and have done little to clarify the issues for end users needing to address their day-to-day storage management challenges and concerns.
Acting in its role as an educator, SNIA has undertaken to offer clearer definitions and terminology in general, and to convey them to both vendors and users. In order to provide a common frame of reference for discussions about storage terminology, SNIA has developed the Shared Storage Model (SSM), which allows us to place different storage technologies within a consistent framework and helps users to understand where a particular technology is implemented and how it relates to other storage technologies (to learn more about SSM, please visit the tutorial located here). Accordingly, we've chosen to use SSM as an overall framework for explaining virtualization in this booklet. The model offers a general structure for describing various architectures for accessing storage systems, and can be considered an architecture vocabulary. It shows differences between approaches without evaluating them per se. As a result, it lets vendors present their solutions--including any architectural differences--more clearly, and gives users a better understanding of what the vendors offer.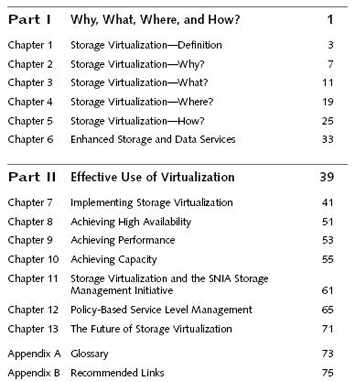 To read the PDF formatted document, click here.
To obtain permission(s) to use material from this work, please submit a written request to SNIA, Permissions Department, 4410 ArrowsWest Drive, Colorado Springs, CO 80907-3444. For information regarding permissions, call (719) 694-1380.
Photography, illustration, and text incorporated into SNIA printed publications are copyright protected by SNIA or other owners and/or representatives. Downloading, screen capturing or copying these items in any manner for any use other than personally viewing the original document in its entirety is prohibited.
Notice to Government End Users: SNIA software and documentation are provided with
restricted rights. Use, duplication or disclosure by the Government is subject to the restrictions set forth in FAR 52.227-19 and subparagraph (c)(1)(ii) of Rights in Technical Data and Computer Software clause at DFARS 252.227-7013.