SNIA EMEA has been supporting the storage industry for more than ten years, and as a regional affiliate of the global SNIA organization, SNIA EMEA advances the interests of the EMEA storage industry by driving the evolution and adoption of storage standards and technologies, educating the market and influencing relevant EU and national policies.
With a large base of member companies spanning the global storage market, open to vendors, channel partners, industry influencers, and academics, SNIA is a true industry catalyst that connects professionals within the IT industry, enabling knowledge exchange and thought-leadership for the benefit of both the industry and storage professionals. Its members bring their collective expertise to educate IT professionals on key storage technologies such as: Big Data & Analytics,Cloud Storage, Data Management, Storage Management, Data Protection Storage Security, Business Continuity and emerging technologies such as Flash and Software Defined Storage.
As a non-profit, vendor-neutral organisation, SNIA EMEA actively recruits members in order to consistently maintain a well-balanced, valued, storage-focused industry organization that provides an invaluable community where storage professionals can engage with and learn from their peers. SNIA EMEA members are open, easy to approach and always willing to listen to, help educate and influence the industry community in a highly collaborative way based on common goals and strategic direction. The collective voice of SNIA EMEA's members can be heard through our interaction with industry's leading press and analysts, presenting at key industry events, delivering vendor-neutral webcasts, storage certifications and training.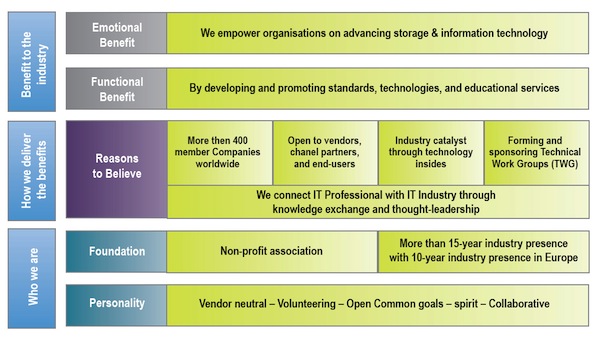 How Members Make Things Happen
SNIA EMEA Leader Members elect from amongst themselves a Board of Directors to set the high-level technology, marketing and organizational strategies, develop industry position statements on established and emerging technologies, and establish the priorities, direction, and focus for EMEA-wide activities. It is primarily the strength and hard work of its committed volunteer members that enable SNIA EMEA to play a significant role in educating the EMEA marketplace about emerging storage technologies to the benefit of all in the industry.
Leader Members work with Participant Members to develop and deliver industry position statements and educational content on key technologies, while Affiliate Members support these programs by participating in local Committees, supporting key events, and actively engaging with the SNIA EMEA community. 
Members have the option to participate in marketing, education and technical activities through regional and country committees. Each local committee is responsible for organising and driving their specific educational programmes at a local level.
How Members Make a Difference in Technology and Education
SNIA EMEA works closely with the SNIA Global Technical Council, TWGs, and Technology Committees, Forums and Initiatives to develop and deliver timely, cutting edge end-user education programs. The Technical Council and Technical Work Groups (TWGs) deliver information and standards that accelerate the adoption of storage networking technologies and standards, charting a course for the storage industry, while the Committees, Forums and Initiatives focus primarily on technology promotion and technical marketing activities.
Resources and Opportunities for Members and Storage Professionals
SNIA EMEA leverages global SNIA activities to provide opportunities for its members to contribute to the technology direction and be visible as thought leaders in the EMEA marketplace through a variety of education resources for key decision-makers and IT professionals on current industry hot topics and technologies.
Professional Training and Certification - The SNIA Storage Networking Certification Program (SNCP) provides a strong foundation of vendor-neutral, systems-level credentials that integrate with and complement individual vendor certifications. SNIA EMEA works with training partners in EMEA to deliver study guides and e-courses for the Certified Storage Professional and Certified Storage Information Architect credentials.
The Member Speakers Bureau regularly delivers technology education at industry and members events and through the SNIA Webcast Channel.
SNIA EMEA's flagship developer conference, SDC, remains a vital independent source of technical education for the developer community. As the owner of this event, SNIA EMEA members are active in driving the program content and format of the show, as well as providing dedicated vendor-neutral sessions based on SNIA's key focus and technology areas.
The Place For All Things Storage
The SNIA EMEA website serves as a portal to key industry news and events, the latest developments in SNIA technology initiatives, industry and government standards, member company information, and a wealth of education resources such as tutorials, white papers and case studies, developed by both SNIA and its members. Other features include a playback facility for SNIA webcasts, and a variety of speaking opportunities. 
Leader, Participant and Affiliate Members have opportunities to leverage this portal to gain added visibility in the market as a company committed to fostering a collaboration dialogue within the industry to advance standards and evolve new technologies for the benefit of end-users.
Become a Member Today
You have several choices for membership depending on how active and visible you want to be in shaping industry direction.
Leaders are full voting members, and therefore entitled to vote and stand for election to the Board of Directors and drive the strategic direction and industry priorities. Leaders have access to all programs, committees and other services provided by SNIA EMEA for no additional fees.
Participants are not eligible to vote or stand for a Board seat. These companies are primarily interested in leveraging SNIA EMEA programs for enhanced market presence and credibility, and contributing to industry positions and technology priorities through dialogue with the Leaders. They are entitled to participate in all local committees and most marketing programs.
Affiliates support SNIA EMEA's mission.  Members in this category are primarily interested in basic marketing benefits, local networking opportunities, and access to the SNIA EMEA community.