Analytics and Big Data Summit 2013 Archive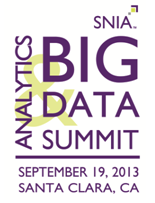 Co-located with the Storage Developer Conference
Thursday, September 18, 2014
Hyatt Regency Hotel, Santa Clara, CA
Summit Overview
Produced by the Storage Networking Industry Association (SNIA), the 2014 Analytics and Big Data Summit will offer insights into this fast growing market segment. Led by SNIA's Analytics and Big Data Committee, the agenda for this event is being specifically designed to provide IT professionals with responsibility for information management and storage with valuable advice and implementable, ROI–focused solutions.
There are a many events dedicated to "big data," but at our Summit, attendees will gain knowledge from IT professionals, hear presentations from and talk to technology vendors, users and consultants about "best practices" on how to get started with as well as how to leverage analytics and big data applications and systems.
Registration
Registration for the Analytics and Big Data Summit is FREE. Registration has not yet opened for this summit.
Sponsorship Information
For information on sponsoring the Analytics and Big Data Summit, view the Sponsorship Brochure.
2013 Analytics and Big Data Summit Agenda
Thursday, September 19, 2013

7:30 - 8:30
Continental Breakfast & Networking
8:15 - 8:30
Introduction and Welcoming Remarks
Molly Rector, Vice-Chairperson, SNIA Analytics and Big Data Committee; EVP of Product Management and WW Marketing, Spectra Logic
8:30 - 9:20
Opening Keynote Presentation
Worlds Colliding: Why Big Data Changes How to Think about Enterprise Storage
Addison Snell, CEO, Intersect360 Research
download presentation

9:20 - 9:30 Transition Break for SDC Audience Proceeding to SDC Sessions 9:30 - 10:20 Making EDW More Flexible with Hadoop
Rob Rosen, Big Data GTM Lead, Pentaho Corporation
download presentation 10:20-10:30 Break and Networking Discussions with Speakers and Sponsors 10:30 - 11:20 Enabling the Disruptive Thinkers in Your Organization
Molly Rector, EVP of Product Management and WW Marketing, Spectra Logic
download presentation 11:25 - 12:15 Leveraging an Active Archive to Store Massive Quantities of Data for Analytics
Mark Seamans, Chief Technology Officer, FileTek
download presentation 12:15 - 1:00 Lunch and Networking Discussions with Speakers and Sponsors 1:00 - 1:50 Big Data - Big Deal... What are Associations like SNIA and AAA Doing in This Area?
Moderator:
Wayne Adams, SNIA Board of Directors, Chairman; EMC Corp.
Panelists:
Sam Fineberg, SNIA Analytics and Big Data Committee, Agenda Committee Co-Chairman; HP
Molly Rector, Active Archive Alliance, Founder and Chairperson; SNIA Board of Directors; Spectra Logic
Thomas Rivera, SNIA Data Protection and Capacity Optimization Committee Co-Chairman; Hitachi Data Systems
Mark Seamans, Active Archive Alliance, Board of Directors; FileTek

1:50 - 2:05 Break and Networking Discussions with Speakers and Sponsors

Industry Track 1

Industry Track 2

SNIA Tutorials

2:05 - 2:50 Big Data: A Storage Systems Perspective

Muthukumar Murugan
Senior Systems Engineer,
HP Storage
download presentation HDFS – What is New and Future

Sanjay Radia
Co-founder and CTO,
Hortonworks

Suresh Srinivas
Co-founder,
Hortonworks
download presentation

Developing Enterprise Policy Over Big Data

Jim McGann
Vice President,
Index Engines
download presentation

2:50 Break 2:55 - 3:40

Saving Millions through Data Warehouse Offloading to Hadoop

Jack Norris
CMO,
MapR Technologies
download presentation

Wisdom from Crowds of Machines

Irfan Ahmad
Co-founder and CTO
CloudPhysics

Chetan Conikee
Chief Data Officer,
CloudPhysics
download presentation

Big Data Storage Options for Hadoop

Sam Fineberg
Distinguished Technologist,
Hewlett-Packard Company
download presentation

3:40 Break 3:45 - 4:30

Building & Optimizing Enterprise–class Hadoop with Open Architectures

Prem Jain
Senior Solutions Architect,
NetApp
download presentation

Accelerating Hadoop Clusters with SSD Technologies

Christian Black
Data Center Solutions Architect,
Intel Corporation
download presentation

Protecting Data in the Big Data World

Thomas Rivera
Sr. Technical Associate, File, Content & Cloud Solutions,
Hitachi Data Systems
download presentation

4:30 Break 4:35 - 5:20

Scott Burgess
Director Trust Portfolio,
EMC
download presentation

Petabyte Storage at Half the Price with QFS

Silvius Rus
Director Big Data Platforms,
Quantcast IncC
download presentation

Combining SNIA Cloud, Tape and Container Format Technologies for the Long Term Retention of Big Data

Sam Fineberg
Distinguished Technologist,
Hewlett-Packard Company

Authors: Roger Cummings, Principal, Antesignanus and Simona Rabinovici-Cohen, IBM Research - Haifa
download presentation

5:20 Session Concludes and Networking Discussions with Speakers and Sponsors; Refreshments Available

2013 Sponsors:

Summit Underwriter

Association Sponsor

Associate Partner

About SNIA's Analytics and Big Data Committee

The SNIA Analytics and Big Data Committee is dedicated to fostering the growth and success of the market for what is generally referred to as Analytics and Big Data, and more generally, the use of data storage resources and services by analytics and big data applications and toolsets. If your company is a SNIA member, there is no fee to join and participate. For more information go to /forums/abdc