Special Events at SDC 2018
---
Experience the First SNIA Swordfish™ Workshop at SDC

We hope you've heard by now ─ there's a new storage management standard swimming alongside DMTF's Redfish® that can manage storage equipment and services in addition to servers. While Redfish is fast becoming the de-facto standard API for secure management of converged, hybrid IT and the software-defined data center, Swordfish is a seamless extension that provides a unified approach. Swordfish is also open, easy to adopt, and best of all, easy to understand! It doesn't require learning the intricacies of storage infrastructure to handle day-to-day storage needs.
SDC attendees have the opportunity to get their feet wet and learn to use the Swordfish standard in a first-of-its-kind workshop, included in your SDC registration. Visit interactive demonstrations and dive into self-paced, self-driven exercises across several independent workstations. You'll also be one of the first to work with open source software developed in support of Swordfish.
The SNIA Swordfish workshop is being held Tuesday, September 25 in the Mezzanine, outside of the presentation rooms beginning at 2:50 p.m., and again during the Tuesday evening reception from 5-7 p.m. Don't let this opportunity swim away! Stop by and cast your net – it's time to go fishing for a better way to manage your storage needs in the data center.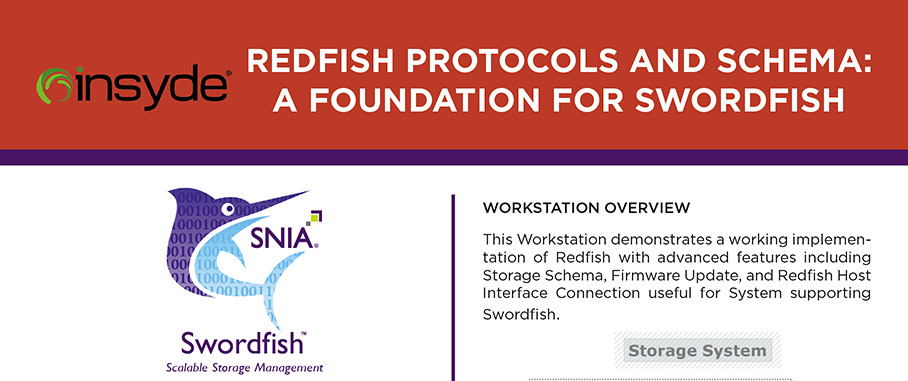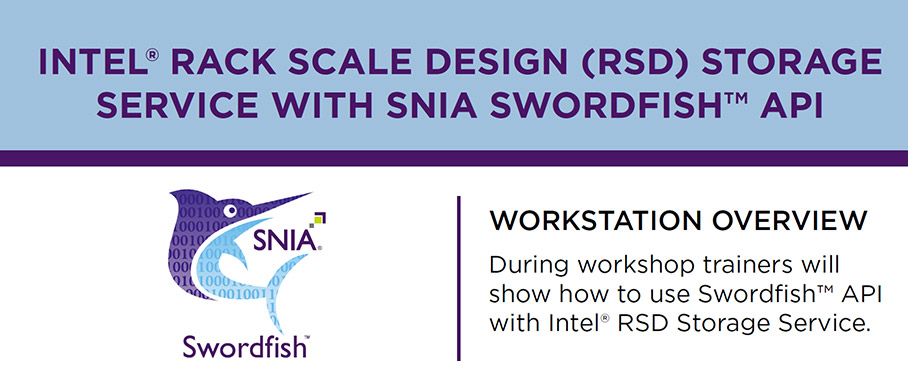 ---
SMB3 Plugfest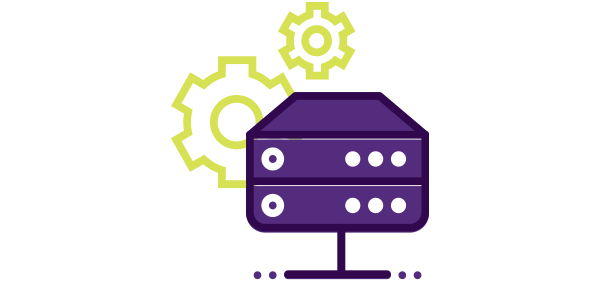 September 23-27, 2018, Co-located with SDC
The purpose of this Plugfest is for vendors to bring their implementations of SMB3 to test, identify, and fix bugs in a collaborative setting with the goal of providing a forum in which companies can develop interoperable products.  The SNIA provides and supports networks and infrastructure for the Plugfest, creating a collaborative framework for testing.  The participants of the Plugfest work together to define the testing process, assuring that objectives are accomplished.
The SNIA SMB3 Plugfest offers:
The latest Windows client and server software from Microsoft, including test suites that help verify interoperability on various features of SMB3 protocols
Technical support from SMB3 engineers to look at traces and help with diagnosing problems
Plugfest participants are covered by a non-disclosure agreement and entry is restricted to registrants only
As in previous years, we will open the Plugfest to all SDC attendees for a reception on Monday evening, as an open house for an insider's view 
How Your Company Can Participate
A primary representative from each company that wishes to participate must complete the SNIA SMB3 Plugfest Company Registration.  The fee to participate in the SMB3 Plugfest is $625 for each Plugfest participant. This includes full access to the Storage Developer Conference sessions and meals. This special discounted rate is limited to participants that will actively participate and test, working with the other SMB3 Plugfest participants. If any of your Plugfest Engineers already have an SDC Conference pass from being a speaker or through sponsorship then there is no additional fee to for them to participate, however the SNIA SMB3 Plugfest Company Registration form still needs to be completed.
Once the online registration form has been completed the company primary representative will be sent a registration code which will allow the company's Plugfest Engineers to register for SDC at the special discounted rate.
For more information, please email Arnold Jones or call 407-574-7273.
SMB3 Plugfest Logistics
The SNIA will provide and support the networks and infrastructure for the SNIA SMB3 Plugfest, creating a collaborative framework for testing.  A platform test bench consists of a six foot table work area, a standard 110 volt 15-amp power drop and network connection. Each participating company will be provided with one test bench for each platform they plan to test.  For special power requirements please contact the SNIA for additional costs.
Plugfest testing starts on Sunday Sept. 23rd at 8:30am, with time available for setup on Saturday Sept. 22nd starting at 1:00pm.  The Plugfest will conclude and teardown will begin starting at 1:00pm on Thursday Sept. 27th, with everything removed from the room by 5:00pm.
Please note that participants are responsible for shipping and any hotel drayage arrangements and charges, etc., regarding their equipment.