Green Storage Initiative (GSI)
GSI ~ Advancing energy efficiency and  conservation
 The SNIA Green Storage Initiative (GSI) is dedicated to advancing energy efficiency and conservation in all networked storage technologies and minimizing the environmental impact of data storage operations.
 See list of GSI member companies
The GSI's Mission
Establish and maintain the SNIA Emerald™ Program for SNIA Emerald™ Energy Efficiency Measurement and conduct training of SNIA Emerald ™ testers and industry stakeholders
Educate the IT industry, vendor community and regulatory bodies on techniques to conserve energy for enterprise storage environments
Provide external advocacy and support of the technical work of the SNIA Green Storage Technical Working Group (TWG)
Provide input to the SNIA Green Storage TWG on requirements for green storage measurement specifications, metrics and standards
Establish and maintain cross-industry relationships and alliances to coordinate and advance data center energy efficiency related programs, test and measurement methods, and standards  
Emerald Training
GSI provides training on the SNIA EmeraldTM Power Efficiency Measurement Specification, for use in EPA ENERGY STAR®. For information on training sessions, visit the Emerald Web Site or contact emerald@snia.org.
The Green Storage Initiative Needs You!
You and your company can make a genuine difference by taking part in activities, collaborative efforts, and other educational and consciousness-raising events for the industry. Now is the opportunity to join and have an impact addressing these environmental challenges. The GSI has voting and non-voting membership levels ($12,000 and $6,000 annually; SNIA membership required), as well as individual institutional memberships ($300; SNIA membership required). Please act today to join the companies listed below as proud members of the Green Storage Initiative.
For more information and membership, please contact GSI@snia.org.
Green Storage Initiative • Member Companies
 
SNIA Emerald™ Program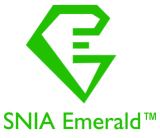 The SNIA Green Storage Initiative manages the SNIA Emerald™ Program.
Please visit the Emerald Web Site.
What's the Latest?
Visit SNIAEmerald.com for the latest specification, tester kits, training, and news.
Visit www.snia.org/energy for a quick snapshot of all things SNIA Green and Energy Efficiency.