Solid State Storage Initiative

Welcome to the Solid State Storage Initiative (SSSI), dedicated to fostering the acceptance and growth of Solid State Storage (SSS) and Persistent Memory in the marketplace.  To achieve those goals, SSSI provides education, performs market outreach, and influences/promotes standards. Learn more in the SSSI Brochure and NVDIMM Infographic.
Click the "News" tab above to learn more about where you can find the SSSI in the technology community at events and online
Click the"Resources" tab above to learn more about solid state storage and persistent memory. 
SSSI member companies collaborate in the areas of Persistent Memory, Performance, and PCIe SSD.  Read on to learn more!
Persistent Memory
Jim Pappas, SNIA Vice-Chairman and co-chair of the SNIA Solid State Storage Initiative, encapsulates what persistent memory will mean to consumers and the industry in this excellent interview.
SNIA's leadership in Persistent Memory is captured on the SNIA Persistent Memory webpage.  SNIA shares their knowledge with the industry via the SNIA Persistent Memory Summit held each January, demonstrations and sessions in leading conferences, around the world, development of specifications, and contributions to standards. Presentations and videos from the latest 2018 Summit are now available, access them HERE.  
Persistent Memory and NVDIMM SIG
A Non-Volatile Dual In-line Memory Module (NVDIMM) operates from DRAM with Flash as backup to create a high performance non-volatile storage device that plugs directly into the memory bus.  The SNIA Persistent Memory and NVDIMM Special Interest Group (SIG) is shepherding this technology into the marketplace, and providing to member companies an organization focused on accelerating the awareness and adoption of Persistent Memories and NVDIMMs for competing architectures.   Their latest activities are a SNIA Tutorial, the NVDIMM Cookbook, and NVDIMM webcasts.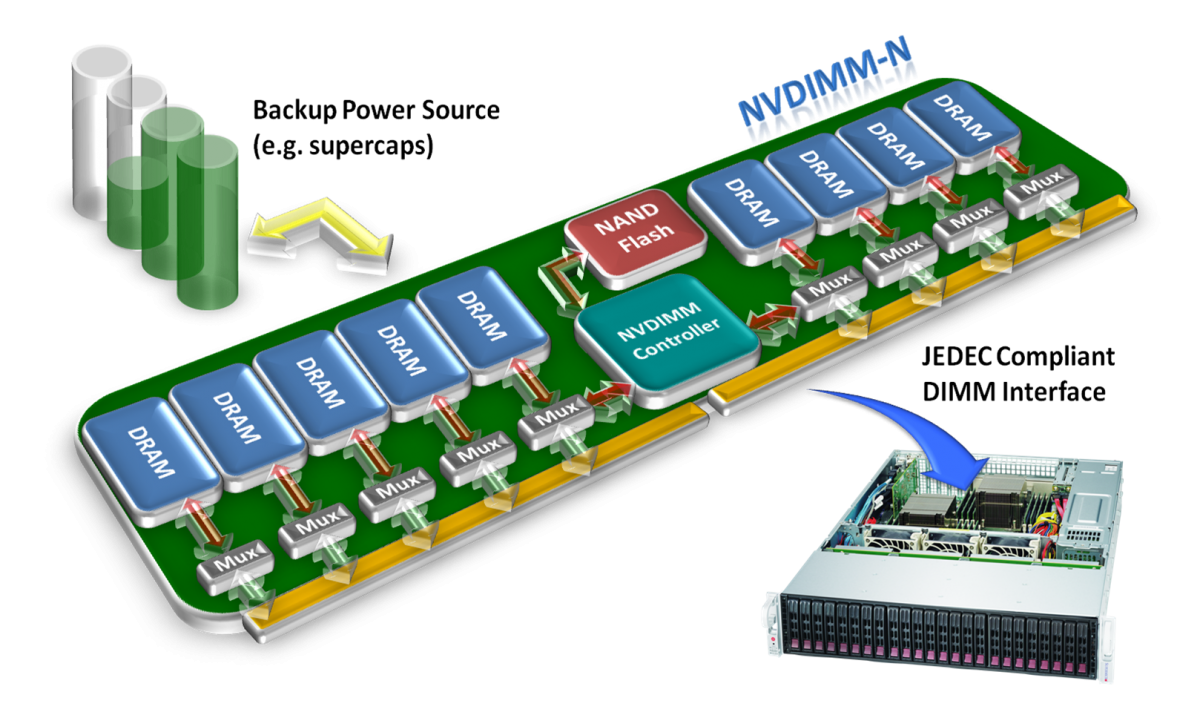 Non-Volatile Memory (NVM) features and performance are outgrowing the existing storage model.  NVM is evolving to be less like storage, more like memory.  The SNIA NVM Programming Model, developed by the NVM Programming TWG, defines new software programming models for NVM.   The model describes extensions allowing software to utilize NVM features and enables designers to develop APIs that take advantage of NVM features and performance. 
A SNIA Technical Whitepaper, NVM PM Remote Access for High Availability, explores the requirements that High Availability extensions to the NVM.PM.FILE mode of the SNIA NVM Programming Model might place on high speed networking, such as RDMA.  Download this paper, and other SNIA Technical Activities Whitepapers, here.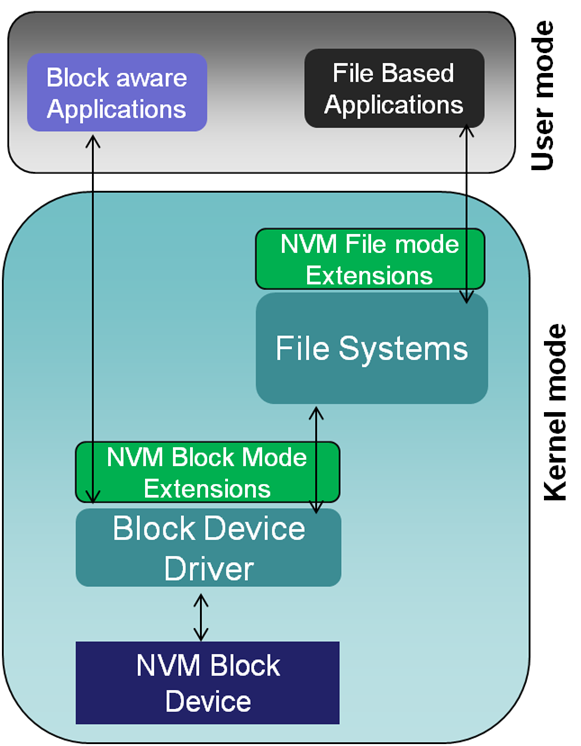 Performance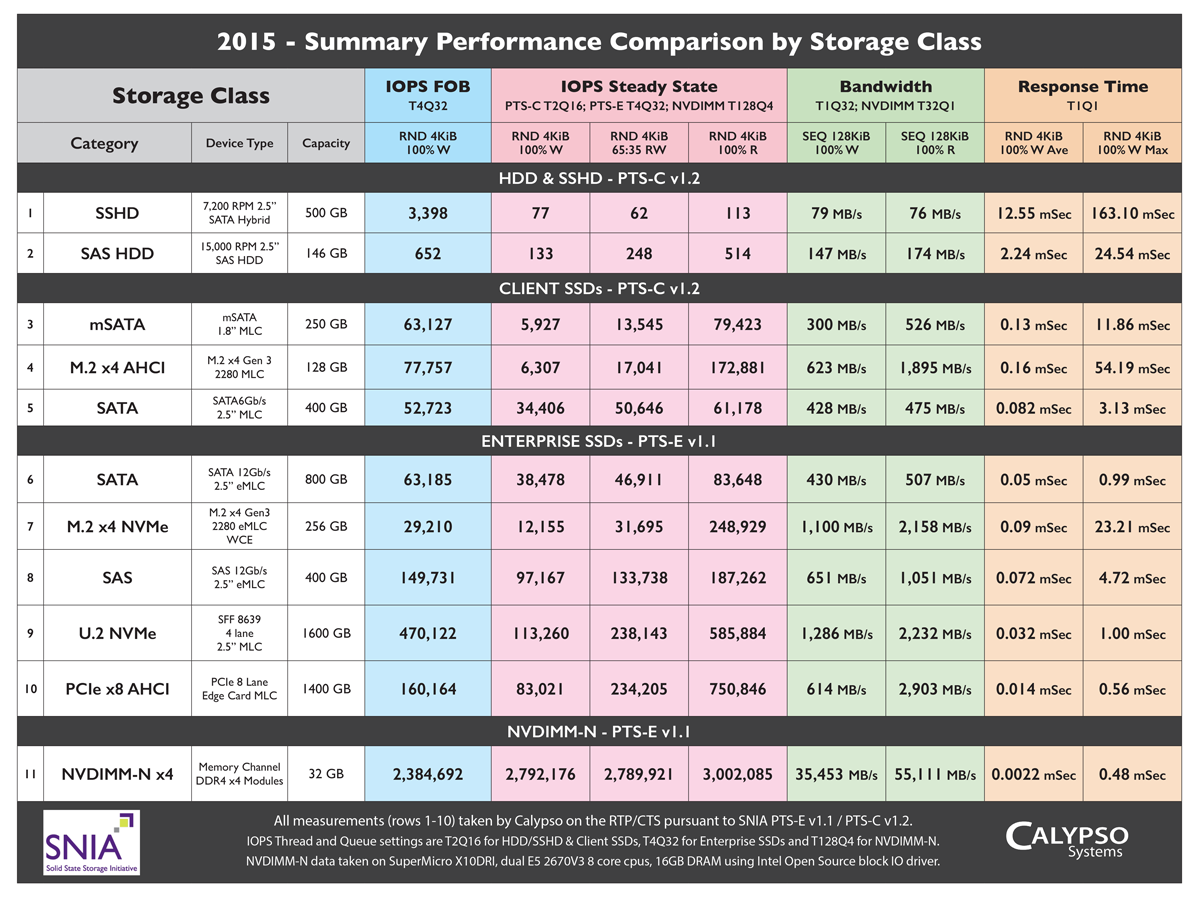 SSSI is leading the way in understanding and quantifying SSS performance.
SSDs behave very differently than HDDs, and standard HDD benchmarks will not provide a true picture of SSD performance. 
SSSI has developed substantial expertise in the area of SSD performance and behavior.  The SSS Performance Test Specifications were developed by the SNIA SSS Technical Work Group (TWG) and define how to measure SSD performance in a manner that is accurate, repeatable and enables comparison between different manufacturers' products. 
Testing is done frequently using the SSS Performance Test Specifications.  The latest results are shown in the chart above, and the chart can be downloaded here.
Learn more about the SSD Performance Project here.
The SSS System TWG, building on the work of the SSS TWG, is developing a specification for measuring the performance of SSS systems.
A testing service based on the SSS Performance Test Specification is available.  Details on the service are available here. 
PCIe SSD
PCI Express (PCIe), the ubiquitous system bus, has evolved to become a storage device interface.  SSDs are able to take advantage of the high bandwidth of PCIe and are available in multiple form-factors.  The SSSI PCIe SSD committee provides guidance to the marketplace on PCIe SSDs. They also coordinate with other industry organizations involved in PCIe SSD activities to access additional expertise and to provide a broader industry perspective for our members.
Resources
For More Information
Upcoming Events
Container World
February 21-23, 2017 at the Santa Clara Convention Center
SNIA and the NVDIMM SIG will feature NVDIMM demonstrations in their booth and Arthur Sainio, SNIA NVDIMM SIG co-chair will present a session on Persistent Memory.
Storage Field Day
March 10, 2017 in Silicon Valley
SNIA and the Solid State Storage Initiative will discuss advances in Persistent Memory.
Creative Storage Conference
May 24, 2017  in Culver City CA
SNIA and SSSI will exhibit and discuss flash storage and persistent memory in entertainment and media.
Flash Memory Summit
August 7-10, 2017 in Santa Clara CA
SNIA and the NVDIMM SIG will feature NVDIMM demonstrations in booth 808 in the Exhibit Hall and in the Solutions Center.  The NVDIMM SIG will also host a panel.
Intel Developer Forum
August 15-17, 2017 in San Francisco CA
Past Highlights
January 17, 2017 - SNIA Persistent Memory Summit.  Find presentations and session videos HERE.
August 16-18, 2016 - SNIA and the SSSI demonstrated a multivendor NVDIMM system featuring NVDIMMs from NVDIMM SIG members AgigA Tech, Micron, Netlist, and SMART Modular running a software defined memory application from member Plexistor, in the NVM Express Technology Community at Intel Developer Forum in San Francisco, CA  More information HERE.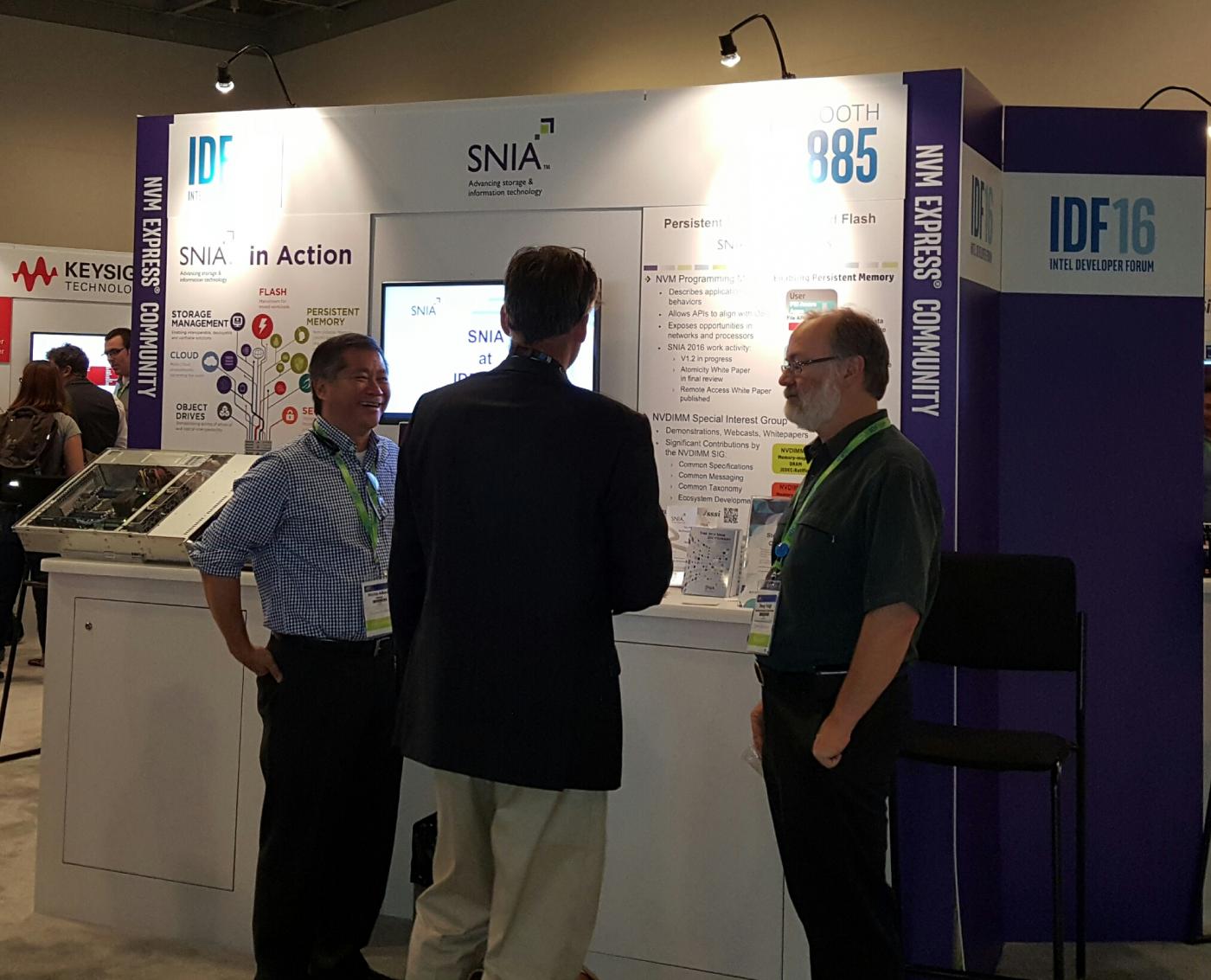 August 8-11, 2016 - Flash Memory Summit, Santa Clara CA
The SNIA and the Solid State Storage Initiative (SSSI) attended Flash Memory Summit 2016, August 8-11, 2015 at the Santa Clara CA Convention Center.
On Monday, August 8, SNIA featured an Education Afternoon in room 209-210 with five SNIA Tutorials on flash storage, combined service infrastructures, VDBench, stored-data encryption, and NVDIMM,  followed by a SNIA Solid State Storage Reception. At the reception, outgoing SSSI chair Jim Ryan of Intel was honored for his volunteer service.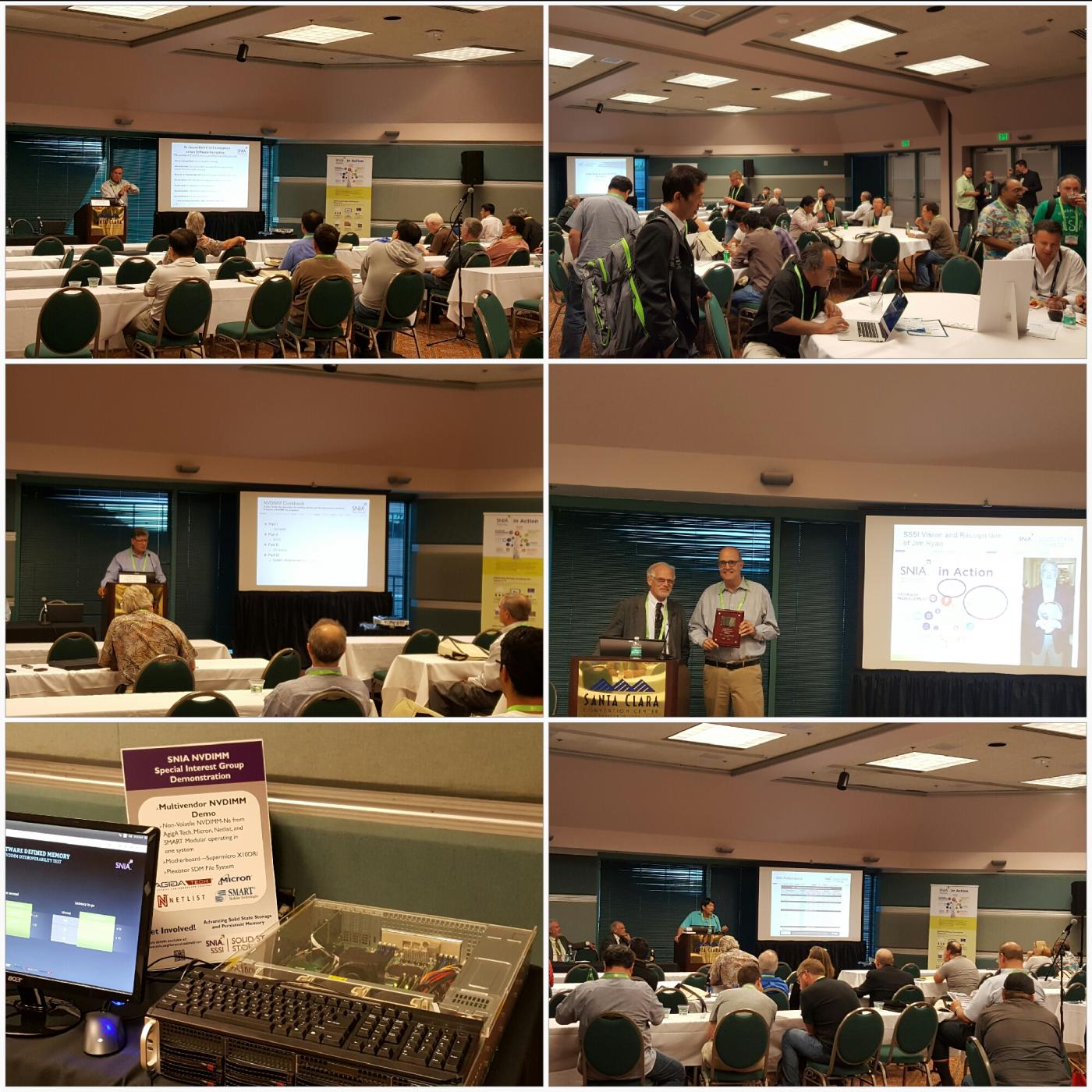 At the Conference, SNIA SSSI hosted a Persistent Memory Forum (Forum R-21), and the SSSI NVDIMM SIG hosted a NVDIMM Panel (Session 301-A). SSSI Data Recovery/Erase Special Interest Group members were also featured in a Data Recovery of SSDs Panel (Session 102-A), and in numerous Keynotes, Forums, Sessions, and as hosts of "Beer and Pizza Networking Tables".  Presentations from all sessions can be downloaded here.  SSSI member companies were also featured in booth 820 in Hall B with a multi-vendor NVDIMM demonstration and single solution demos from NVDIMM SIG member companies in the Solutions Center in Hall C.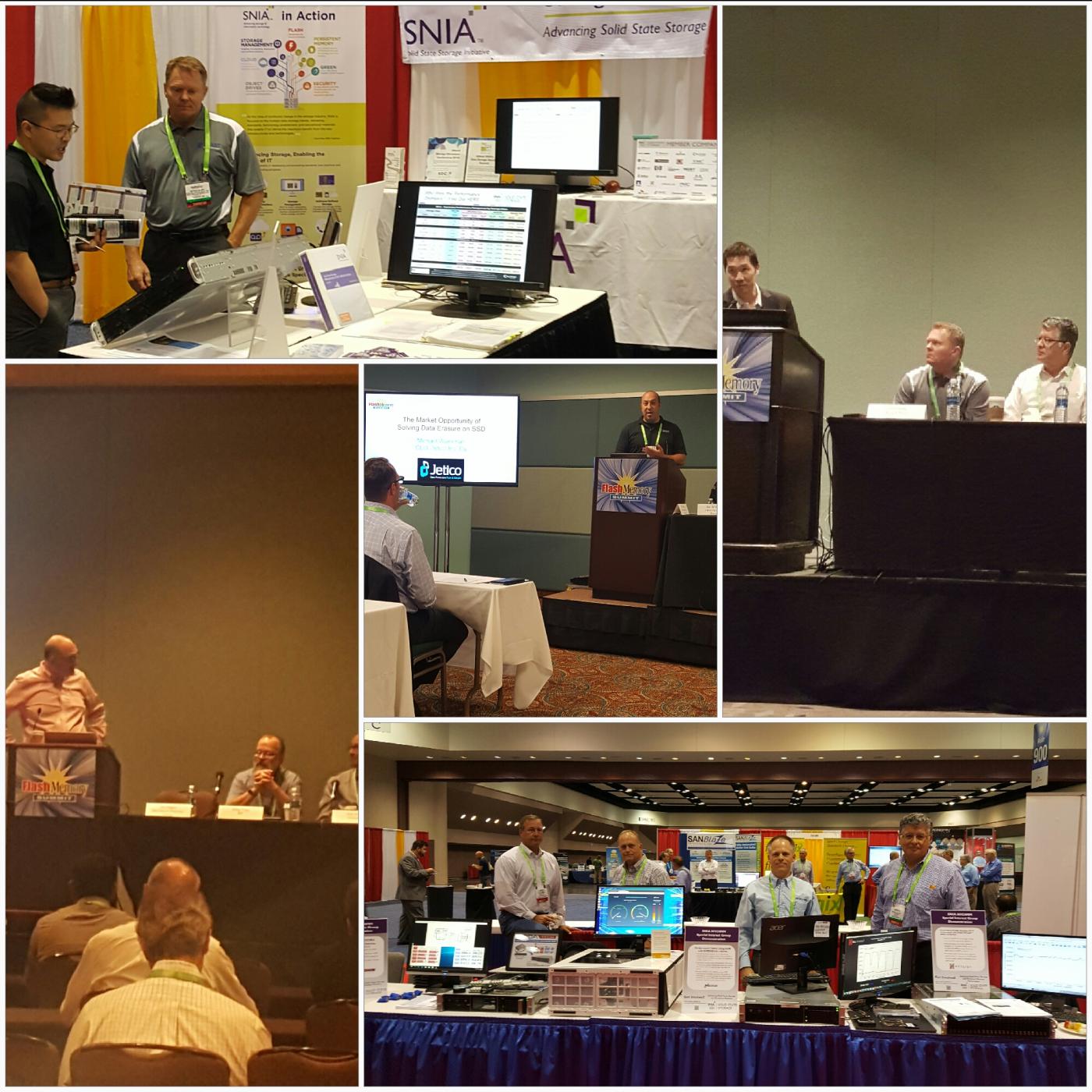 June 23, 2016 - SNIA and the Solid State Storage Initiative exhibited at the Creative Storage Conference in Culver City, CA.  More infomation at http://www.creativestorage.org
June 13-15, 2016 - The Solid State Storage Initiative featured demonstrations of NVDIMM technology and a discussion of SSD Data Recovery and Erase at the SNIA Data Storage Innovation Conference in San Mateo, CA.  Check out the Mainstage Memory/Storage Architecture panel by SSSI member Jim Handy of Objective Analysis HERE.  More details at http://www.dsicon.com
May 23-24, 2016 - SNIA and the Solid State Initiative were at at In-Memory Computing Summit in San Francisco, featuring NVDIMM demonstrations from the NVDIMM SIG and a presentation on NVDIMM Futures.  More information at http://imcsummit.org/.  SNIA NVDIMM SIG chair keynote is here.
April 26, 2016 - 11:00 am PT/2:00 pm ET - NVDIMM SIG presents Persistent Memory - Your Questions Answered on NVM and NVDIMM - a SNIA BrightTALK webcast. Download the ondemand webcast at https://www.brighttalk.com/webcast/663/197009
April 13-14, 2016 - SNIA and the Solid State Storage Initiative presented at Open Server Summit 2016, the industry's premier event that focuses on the design of next- generation servers with topics on data center efficiency, SSDs, core OS, cloud server design, the future of open server and open storage, and other efforts toward combining industry-standard hardware with open-source software.  The SNIA NVDIMM SIG hosted a panel on NVDIMM technology, featuring SIG members Diablo Technology, Netlist, and SMART Modular.  Slides available under the resources tab.  SSSI was also in booth 401-403 featuring demonstrations by the NVDIMM SIG members Diablo Technologies, Netlist, and SMART Modular, discussions on SSD data recovery and erase, and updates on solid state storage performance testing.   SNIA board member Rob Peglar of Micron Technology also delivered a keynote on April 14.  Find more information and proceedings at http://www.openserversummit.com. 
January 20, 2016 - SNIA's 4th annual NVM Summit, held concurrently with the SNIA Annual Member Symposium, was a great success!  A packed room heard the latest on advances in persistent memory, and the convergence of storage and memory developing the needed ecosystem.  Many thanks to Summit underwriters Intel Corporation and SNIA Solid State Storage Initiative, to the many SNIA members who presented, and to SNIA NVDIMM SIG members AgigA Tech, Diablo Technologies, Netlist, and SMART Modular for their NVDIMM demonstrations.  Find the agenda, presentations, and videos here.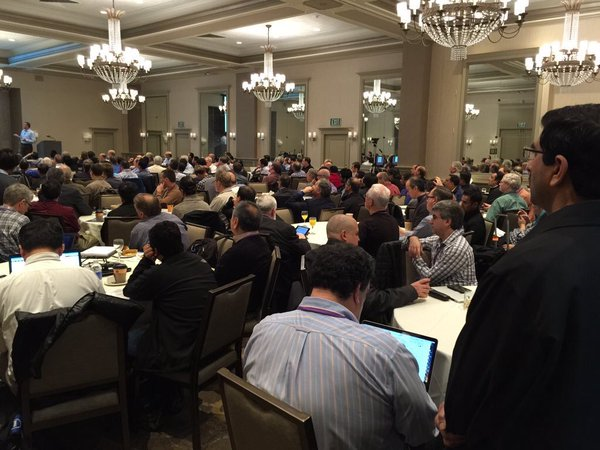 January 3-5, 2016 -SNIA Education and the Solid State Storage Initiative attended Storage Visions 2016 in Las Vegas Nevada.  SSSI featured NVDIMM Special Interest Group demonstrations by SIG members SMART Modular and Netlist, and the opportunity to take the new Data Recovery/Erase Survey created by the DR/E Special Interest Group.  A SNIA Tutorial Day featured sessions on security and Fog Computing.  More information at http://www.storagevisions.com. 
October 10, 2015  A Different Approach to Solid State Storage in the Cloud.  DCS Europe article written by SNIA Solid State Storage Initiative and Cloud Storage Initiative member Mark Carlson of Toshiba.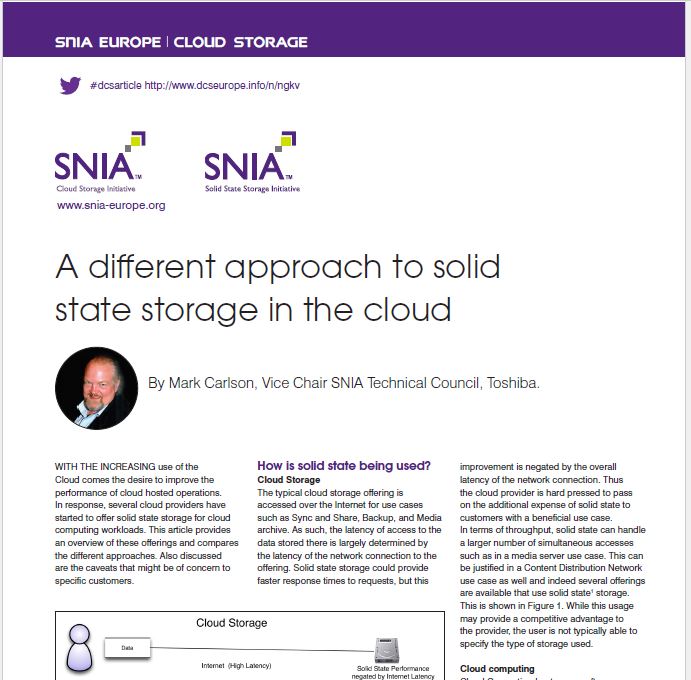 August 10, 2015 Storage Networking Industry Association Group Formed to Address Data Recovery and Erase Capabilities in Solid State.  Special Interest Group unites leading Solid State, Systems and Data Recovery companies to broaden industry support and knowledge to meet customer demands.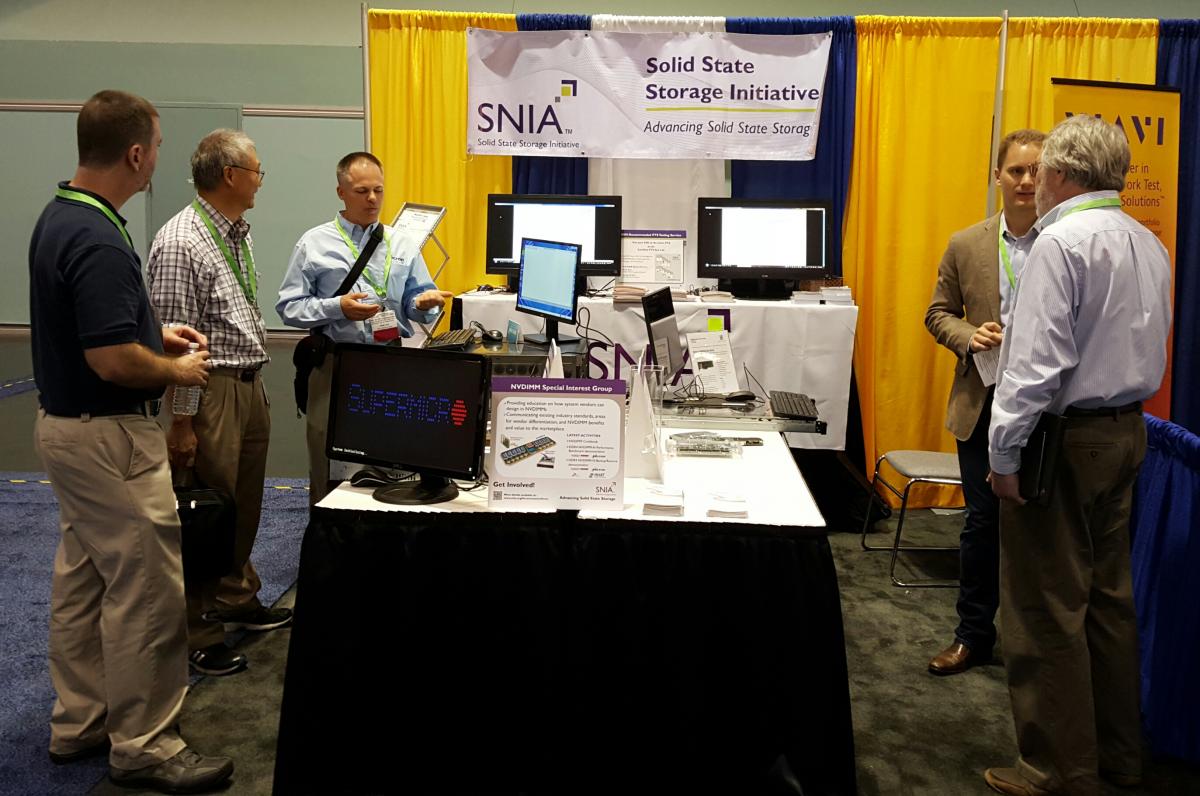 August 10, 2015 SNIA Showcases Innovative Solid State Storage Programs at Flash Memory Summit. The Storage Networking Industry Association (SNIA) and its Solid State Storage Initiative (SSSI) today outlined the details of its participation in the Flash Memory Summit 2015 which will feature a variety of educational, training and networking opportunities for conference attendees.
May 26, 2015 - JEDEC Announces Support for NVDIMM Hybrid Memory Modules. JEDEC's JC-45 Committee has approved the first standards for support of "hybrid" DDR4 memory modules which are defined as modules that plug into standard dual in-line memory module (DIMM) sockets and appear like a DDR4 SDRAM to the system controller, yet contain non-volatile (NV) memories such as NAND Flash on the module. Features a quote from the Co-Chairs of the SSSI NVDIMM Special Interest Group. 
January 20, 2015 - SSSI co-sponsored the NVM Storage Industry Summit at the Sainte Claire hotel in San Jose.  Presentations may be downloaded
here
.
January 4, 2015 - The SNIA NVM Programming Technical Work Group received the 2015 Professional Storage Development Visionary Award at Storage Visions, the storage conference of the Consumer Electronics Show.  The Award was in recognition of the TWG work on creating next generation programming models. Accepting the Award on behalf of the TWG from Storage Visions founder Tom Coughlin is Paul Wassenberg, SSSI Chair. Congratulations!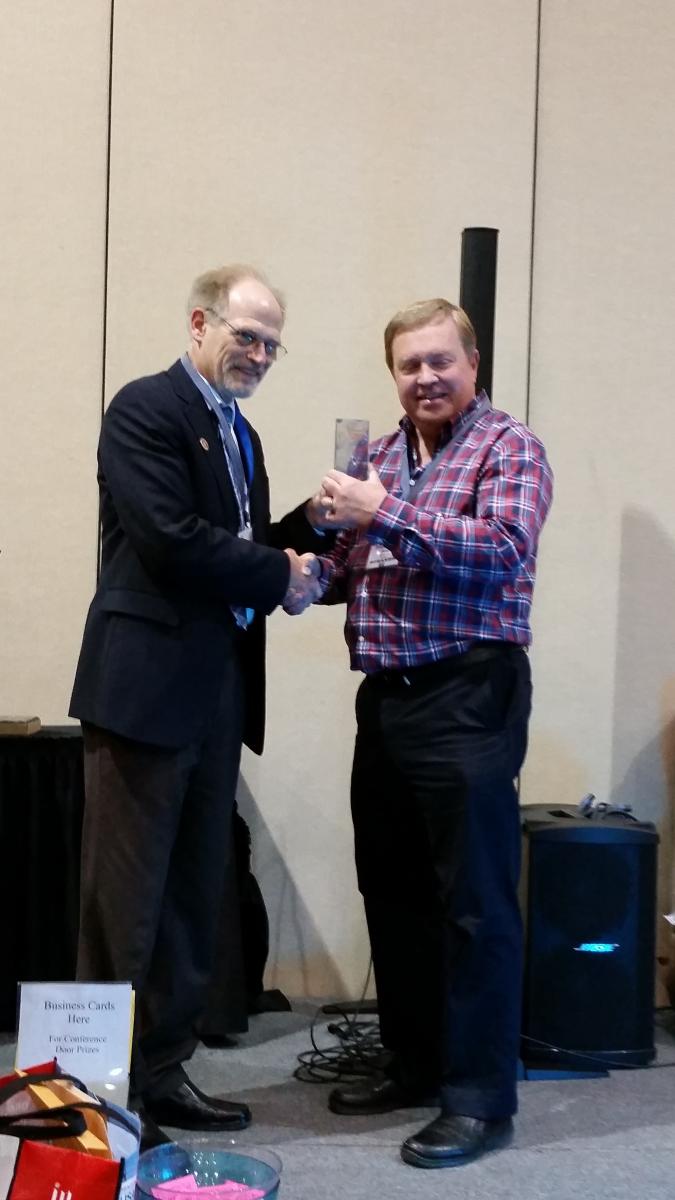 January 4-5, 2015 - SSSI participated at the Storage Visions conference.  NVDIMM SIG members SMART Modular and Netlist demonstrated NVDIMM;  SSSI members Intel, Micron, and Samsung  displayed PCIe SSDs; and Sandisk displayed an UltraDIMM solution.  
November 11-13, 2014 - SSSI had a booth at the Open Server Summit in the Santa Clara Convention Center.  Featured were live demonstrations of NVDIMM applications and displays of NVDIMM and PCIe SSD solutions.
August 6, 2014 - SNIA NVM Programming Model Selected by Flash Memory Summit as a 2014 Best of Show Award Winner, recognized as the Most Innovative Flash Memory Enterprise Business Application
July 24, 2014 - New Solid State Programs Featured at Flash Memory Summit 2014. Non-Volatile NVDIMM SIG officially joined the SNIA Solid State Storage Initiative, demonstrating latest NVDIMM solutions in the booth, at a Hands-On Lab, and in educational conference sessions. A FMS Software Forum featured presentations on the NVM Programming Model
October 14, 2013 - SSSI Brings Six New and Improved Programs to Enhance SSD Understanding, including launch of the SSD Features Rating Project to better understand what users expect of SSDs and programming models to enable software to take advantage of NVM features
August 19, 2013 - At Flash Memory Summit 2013, SSSI released two new white papers on SSD Performance and PCIe 101, and two user guides on the PTS Test Specification and the Workload I/O Capture Program. Download them HERE
June 10, 2013 - SSSI webcast - How Many IOPS is Enough?, featuring the SSSI WIOCP project, on the SNIA BrightTalk Channel
May 29, 2013 - New Version Enterprise SSD Performance Test Specification Releasedby SNIA Solid State Storage Initiative; included in the release is information on the updated Reference Test Platform, and a SSSI endorsed SSD Testing Service
January 4, 2013 - The SSSI showcased new technical and educational work at the Storage Visions 2013 Conference
To read older SSSI news, visit our News Archive
Solid State Storage Essentials
SSD Data Recovery & Erase
Performance
NVM
PCIe SSD
More about SSSI