Persistent Memory and NVDIMM Special Interest Group
The SNIA Persistent Memory and NVDIMM SIG contributed to Revision 1 of JESD248, DDR4 NVDIMM-N Design Standard (revision 1.0) which was released September 2016.  This standard defines the electrical and mechanical requirements for 288-pin, 1.2 Volt (VDD), Double Data Rate, Synchronous SDRAM Nonvolatile Dual In-Line Memory Modules with NAND Flash backup (DDR4 NVDIMM-N). Read more about the standard here.  The SIG was recently awarded Best of Show at Flash Memory Summit 2017 for their work on the standard with JEDEC.
*NEW** Check out the new NVDIMM Infographic and the NVDIMM Cookbook!  Scroll down the page to see this and all the great NVDIMM and Persistent Memory Educational Resources and events to visit us!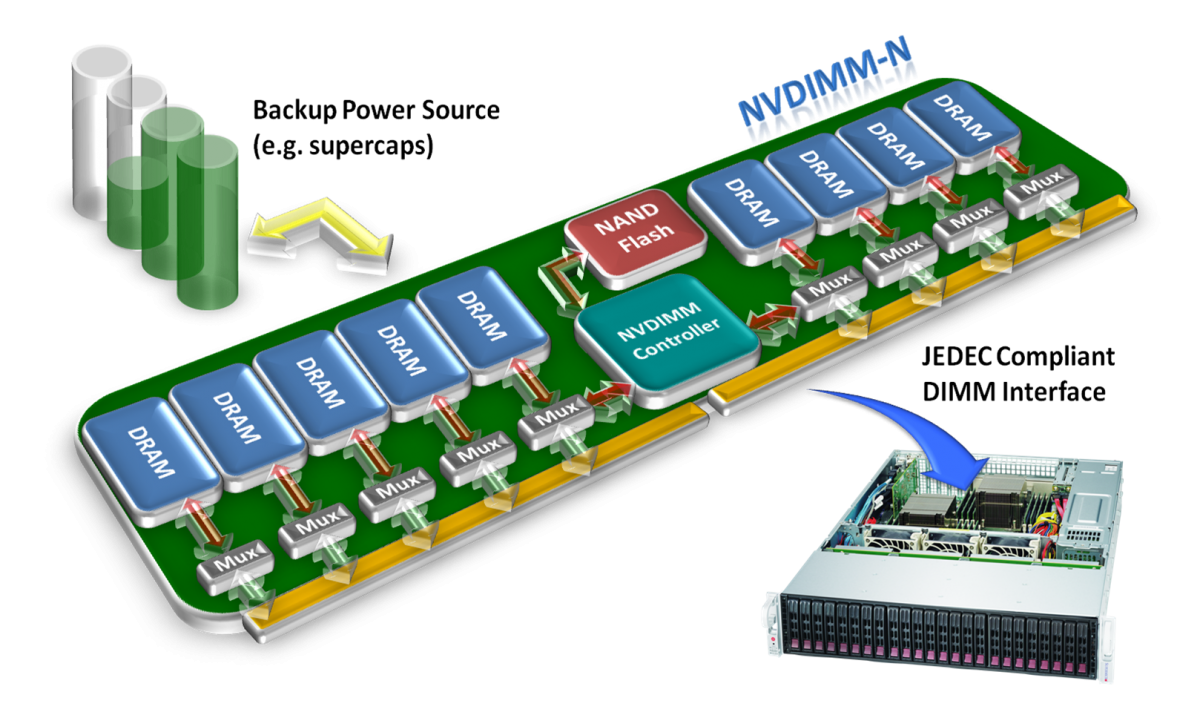 The Persistent Memory and NVDIMM Special Interest Group (PM/NVDIMM SIG) revised their charter in 2018 to accelerate awareness and adoption of Persistent Memory (PM) and Non-Volatile Dual In-line Memory Modules (NVDIMMs) for competing architectures.  The PM/NVDIMM SIG will:
Educate on the types, benefits, value, and integration of Persistent Memories
Communicating usage of the NVM Programming Model developed to simplify system integration of current and future PM technologies
Influence and collaborate with middleware and application vendors to support Persistent Memories
Developing user-perspective case studies, best practices, and vertical industry requirements
Coordinate with industry standard groups and promote industry standards related to PM and NVDIMM
Synchronize and communcate a common Persistent Memory taxonomy
The Persistent Memory NVDIMM SIG is a member communiity under the SNIA and the Solid State Storage Initiative (www.snia.org/forums/sssi), which will provide logistical and promotional support for the SIG.
The Persistent Memory NVDIMM SIG includes vendors AgigA Tech, Calypso Systems, Intel, Micron, Netlist, Samsung, SK Hynix, SMART Modular Technologies, Spin Transfer, Toshiba,  Viking Technology, and Western Digital.
On this page, you will find up-to-date news, event listings, webcasts, FAQs, white papers, and articles about Persistent Memory.  Scroll down the page and see a wealth of educational content on this important topic.
Your feedback is welcome and encouraged.  If you would like to participate in SIG activities, email pmnvdimm-chair@snia.org
NEWS
JEDEC and SNIA awarded Best of Show at Flash Memory Summit 2017
JEDEC Announces Support for NVDIMM Hybrid Memory Modules
JEDEC's JC-45 Committee has approved the first standards for support of "hybrid" DDR4 memory modules which are defined as modules that plug into standard dual in-line memory module (DIMM) sockets and appear like a DDR4
SDRAM to the system controller, yet contain non-volatile (NV) memories such as NAND Flash on the module. The press release linked above features a quote from the Co-Chairs of the PM/NVDIMM SIG.
NVDIMM SIG honored by peers at SNIA 2015 Symposium, winning the award for most significant contributions by a SNIA committee in 2014.
SNIA Solid State Storage Initiative (SSSI) Aims to Advance Adoption of Flash and Next-generation Non-Volatile Memory with New Programs at FMS 2014
EE Times:  Group Forms to Drive NVDIMM Adoption
2017 EVENTS
Container World 
February 21-23, 2017 at the Santa Clara Convention Center
SNIA and the NVDIMM SIG featured NVDIMM demonstrations in their booth and Arthur Sainio, SNIA NVDIMM SIG co-chair presented Boosting Performance of Data Intensive Applications via Persistent Memory - download his presentation here!
Creative Storage Conference
May 24, 2017  in Culver City CA
SNIA and SSSI will exhibit and discuss flash storage and persistent memory in entertainment and media.
Flash Memory Summit
August 7-10, 2017 in Santa Clara CA
SNIA and the NVDIMM SIG will feature NVDIMM demonstrations in booth 808 in the Exhibit Hall and in the Solutions Center.  The NVDIMM SIG will also host a panel.
Intel Developer Forum
August 15-17, 2017 in San Francisco CA
SNIA and the Solid State Storage Initiative will be in the NVMe Technology Community.
ONLINE EVENTS
2017 SNIA Persistent Memory Summit
Access all presentations and videos from the January 2017 Summit here.
NVDIMM - Applications are Here! 
Get a glimpse of the future of Persistent Memory - it's NOW! Join SNIA NVDIMM Special Interest Group in another in our series of webcasts on the NVDIMM Cookbook - how to incorporate NVDIMM into your systems and what non-volatile DIMM applications now available. We'll even highlight some of the "knobs" to turn to optimize use of NVDIMM in your applications to ease the way to simple, plug-n-play adoption!
Non-Volatile DIMMs, or NVDIMMs, have emerged as a go-to technology for boosting performance for next generation storage platforms. The standardization efforts around NVDIMMs have paved the way to simple, plug-n-play adoption. If you're a storage developer who hasn't yet realized the benefits of NVDIMMs in your products, then this tutorial is for you! We will walk you through a soup-to-nuts description of integrating NVDIMMs into your system, from hardware to BIOS to application software. We'll highlight some of the "knobs" to turn to optimize use in your application as well as some of the "gotchas" encountered along the way.
Persistent Memory Advances:  Solutions with Endurance, Performance, and Non-Volatility
Persistent memory solutions deliver the endurance and performance of DRAM coupled with the non-volatility of Flash. This webinar will update you on the latest solutions for enterprise server and storage designs, and provide insights into future persistent memory advances. A specific focus will be NVDIMM solutions, with examples from the member companies of the SNIA NVDIMM Special Interest Group.
NVDIMM - Persistence Pays
Non-Volatile DIMMs, or NVDIMMs, provide a persistent memory solution with the endurance and performance of DRAM coupled with the non-volatility of Flash. This webinar provides a general overview of this emerging technology and why the industry is starting to take notice. You will learn what an NVDIMM is, how it works, where it fits and why every system architect should consider them for their next generation enterprise server and storage designs.  View on demand HERE.
Storage in the DIMM Socket SNIA Tutorial
This tutorial focuses on how IT managers have begun seeking out new ways for flash to be deployed in the data center in order to take greater advantage of the performance and latency benefits. With traditional interfaces such as SAS, SATA and PCIe already taking advantage of flash and deployed, the focus has shifted to non-traditional interfaces in order to further penetrate current infrastructure. This has led to the emergence of new solutions that leverage the DDR3 interface, utilizing existing DIMM slots in server hardware
Providing Storage at Memory Speed Using NVDIMMs - SNIA NVDIMM SIG Hosted Panel Presentation at Open Server Summit 2016
NVDIMMs are persistent memory modules that reside on the DDR DRAM channel, combining volatile DRAM and nonvolatile flash memory. Under normal power conditions, an NVDIMM operates just like DRAM with ultra low latency and essentially infinite endurance, but is still nonvolatile. During a power failure or system crash, the data in the DRAM is transferred to the flash and can be restored when normal conditions resume.  Persistent memory enables applications to run faster due to greater I/O performance. Typical areas of interest include databases, Web 2.0, analytics, OLTP, and video and image processing. 
HANDS-ON LABS
NVDIMM SIG Hands-On Lab at Flash Memory Summit 2014 User Guide
FAQs
NVDIMM Messaging and FAQ
This document provides a summary of key messages on NVDIMM technology and the marketplace, and provides information on frequently asked questions about NVDIMM.
WHITE PAPERS AND TECHNICAL BRIEFS
NVDIMM Technical Brief
Non-Volatile Dual In-line Memory Modules (NVDIMMs) merge two leading technologies:   DDR3 DRAM and NAND Flash, to solve the problem of data volatility in mission critical servers. This brief takes a closer look, and explains the strengths and weaknesses of each.
NVDIMM - Fastest Tier in Your Storage Strategy
This paper reviews how Non-Volatile Memory can be utilized within current storage strategies to maximize performance and availability.  Additionally, the paper discusses how Non-Volatile Dual In-line Memory Modules (NVDIMMs) can be enabled as the fastest tier and the impact it has on your storage strategy.
Non-Volatile Memory and Its Use in Enterprise Applications
This paper reviews different memory technologies, current and future, volatile and non-volatile. The paper also provides an overview of Non-Volatile DIMMs and their integration into industry standard servers using supercapacitor technology. Additionally, the paper discusses how NVDIMMs enable increased application performance and significantly improved power failure/system crash recovery.
NVDIMM:  Enabling Greater ROI from SSDs
This paper reviews how the deployment of Non-Volatlie DIMM technology can overcome the shortcomings of NAND flash and achieve greater ROI from Solid State Disk (SSD) storage.
Backup Power Charge Control and Health Monitoring - A Technology Overview
This paper provides an overview of charge control and management technology and the variety of implementations, explains state of health monitoring, and discusses new innovations and technological developments.
ARTICLES
NVDIMMs:  The Next Critical Technology For Your Data Center Storage Strategy
As the world experiences an ever increasing numbers of devices connected to the internet with 15 Billion devices expected to be connected by 2015, data centers serving these devices have either been creaking under the pressure or have adopted new technologies to help increase efficiency & performance.
PRESS RELEASE
New Solid State Programs Featured at Flash Memory Summit 2014
SNIA Special Interest Group Formed to Accelerate Awareness and Adoption of Non-Volatile DIMM (NVDIMM) in the Marketplace