About The Solid State Storage Initiative
SNIA SSSI is dedicated to fostering the acceptance and growth of Solid State Storage (SSS) and Persistent Memory (PM) in the marketplace. To achieve those goals, SSSI provides education, performs market outreach, and influences / promotes standards. SSSI enables its members to:
Collaborate with industry leaders to define the direction of SSS and PM solutions
Engage with other industry organizations and standards groups to stay current on technology trends
Network with key industry media and analysts, representing SSSI positions
Develop expertise by working with users to gain first-hand knowledge of their SSS and PM requirements
Gain visibility by participating in industry conferences, authoring whitepapers, and speaking at tradeshows and on webcasts
---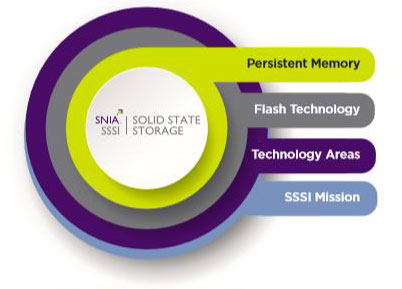 Persistent Memory and Flash Technology
Learn more about how the SSSI covers trends in persistent memory and flash technology.
---
New members are welcome to join the SSSI!  Learn below about SSSI Leadership, and click the links to learn about Committees and Members.
If you need additional information or have any questions, send an email to: asksssi@snia.org
SSSI Leadership
Co-Chairs:
Alex McDonald, NetApp
Jennifer Dietz, Intel Corporation
Education Committee Chair:
Tom Coughlin, Coughlin Associates
Marketing Committee Co-Chairs:
Tim Lustig, Mellanox Technologies
Jennifer Dietz, Intel Corporation
Persistent Memory and NVDIMM SIG Chair:
Arthur Sainio, SMART Modular Technologies
Solid State Drive SIG Co-Chairs:
Cameron Brett, Toshiba Memory
Jonmichael Hands, Intel Corporation
TechDev Committee Chair:
Eden Kim, Calypso Systems
NVM Programming TWG Co-Chairs:
Alan Bumgarner, Intel Corporation
Tom Talpey, Microsoft Corporation
Solid State Storage TWG Chair:
Eden Kim, Calypso Systems
Solid State Storage System TWG Co-Chairs:
Peter Murray, Micron Corporation
Drew Tipton, Toshiba
IOTTA TWG Co-Chairs:
Geoff Kuenning, harvey Mudd College
Tom West, Hyper IO
Workload TWG Co-Chairs:
Peter Murray, Micron Corporation
Drew Tipton, Toshiba