XAM Initiative
XAM Mission and Goals
The SNIA XAM Initiative drives the adoption of the eXtensible Access Method (XAM) specification. The Initiative builds and serves a XAM community that includes storage vendors, independent software and application developers, and end-users to ensure that the specification fulfills market needs for a reference-data interface standard. These needs include interoperability, information assurance (security), storage transparency, long-term records retention and automation for Information Lifecycle Management (ILM)-based practices. For more detail on "
Why XAM" review the papers and documents in the 'Knowledge Center'.
XAM Initiative Goals
Ensure the adoption, implementation, and deployment of the XAM programming interface(s) by applications concerned with reference data management and storage systems including SAN, NAS, and CAS
Cultivate both a SNIA community and an industry-at-large ecosystem for vendor product XAM standard implementations, driven by end-user demand
Develop and implement XAM product interoperability programs; XAM developer programs; XAM standard product conformance programs, and industry education materials
The XAM Initiative is a fee-based activity for SNIA members to conduct programs to achieve these goals. The Initiative is structured with a governing board and dedicated committees. There are many opportunities for leadership roles on the board and committees to develop the market, develop conformance and interoperability programs, develop and deliver education, and showcase solutions to the marketplace.
XAM Standard Benefits
Here are some typical examples of how XAM as a standard access method and metadata container benefits storage vendors, application developers, and the end-user community. Much more is available on this topic in the Solutions Guide section of this website.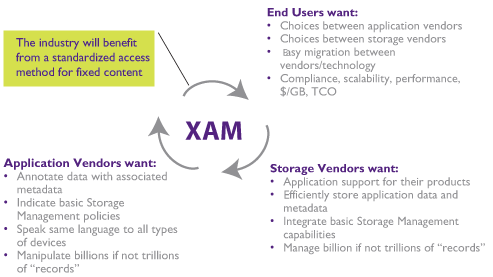 Interoperability: Applications can work with any XAM conformant storage system, allowing information to be migrated and shared
Compliance: Integrated record retention and disposition metadata is controlled right in the information object
ILM Practices: An extensible metadata container providing a standard framework for classification, policy management, and implementation methods
Migration: Ability to automate migration process to maintain long-term readability
eDiscovery and Litigation Support: Control retention, preservation, and achieve application-independent structured discovery of the data and the metadata, avoiding application obsolescence and reducing the cost of discovery
Preservation and Digital Archive: XAM information objects with their extensible metadata fields provide the container for a preservation object allowing full deployement of preservation services with information portability
To see examples of XAM implementations, explore the XAM Solutions Guide