XAM Solutions Guide
XAM continues to attract more and more adherents to its cause now that the SDK is released and available. Whether in a vertical environment or supporting a specific application, the XAM ecosystem typically consists of 5 categories of implementations (see the Solutions Chart):
By an Application: Implemented like a device driver or file system interface, the XAM API provides the application to storage interface over standard network protocols.
As a form of 'middleware': Typically in the form of tools, utilities, or gateways. Middleware is designed to make interfacing between applications and storage systems easier and transparent. They also provide additional functions such as query services and other data-services built around XAM.
At a storage controller, virtualization engine, or storage server: these systems integrate XAM directly into the storage and provide data services to create what is called "XAM enabled storage"
As a Cloud Storage Interface: enabling information to reside in the cloud as a portable, secure, information object with rich metadata
As a management tool: that can take advantage of the extended metadata attributes of a XAM object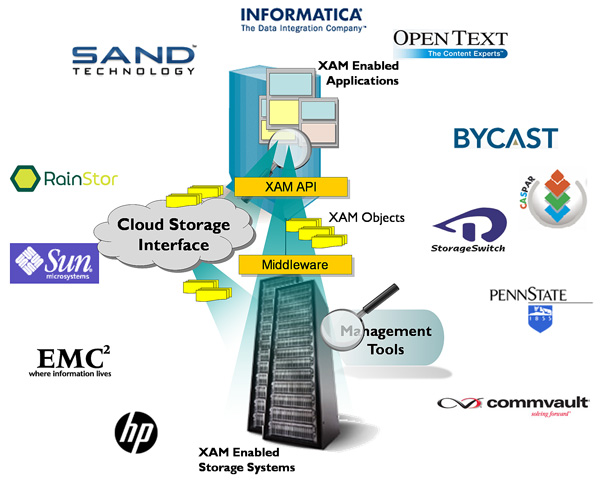 IMPLEMENTATION EXAMPLES
Application: SAND Technologies uses XAM as part of their SAND/DNA Access product. It enables SAND/DNA Access to create a managed repository as an extension to an existing Data Warehouse, supporting ILM-based policies including migration, deletion, retention, and query
Middleware: StorageSwitch provides a filesystem gateway to XAM enabled storage for application developers, custom interfaces for implementing XAM, or a XAM gateway to existing storage systems for storage developers plus a number of data-service utilities
Storage Server/Controller: Storage systems such as EMC's Centera or HP's RISS are XAM enabled utilizing XAM as the application to storage interface
Cloud Data Storage Management Interface: SNIA's Cloud Data Management Interface (CDMI) enables the management of public clouds (as well as private and hybrid clouds). Designed to enable interoperable cloud storage and data management, the CDMI specification addresses a total cloud storage solution - helping users avoid the chaos of proprietary advances and partial solution APIs that would erode the integrity of the cloud model
Management: CommVault's Simpana is a platform for data services and is XAM capable. Informatica gives CommVault Simpana the ability to access data in its structured data archives through standard SQL/ODBC/JDBC interfaces as well as XAM and webDAV
To submit a profile to list your company's implementation of XAM, click here.