April 15, 2015
Presentations Available Now from the Data Storage Innovation Conference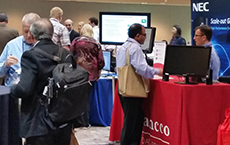 DSI Innovation Spotlight Expo
Nearly 300 storage professionals attended over 70 highly–rated breakout sessions across 2.5 days at the second annual Data Storage Innovation Conference during April 7-9, in Santa Clara, CA.
DSI presentations covered topics including Cloud Storage, Storage Architecture, Software Defined Storage, Storage Technologies, Security, and much more. Because these presentations were so well received, SNIA has decided not to delay public access, and make the presentations available now! Download the presentations here.
---
New SNIA Leadership Positions Announced
Several important Board of Directors and SNIA Technology Community leadership changes include:
Rob Peglar, Vice President of Advanced Storage at Micron Technology, Inc. has been appointed to fill an at–large seat position on the SNIA Board of Directors. Rob previously served on SNIA's Board when representing X–IO Technologies and was the SNIA Treasurer. He was also a founder of the SNIA Analytics and Big Data Committee and led the SNIA Tutorials team for years. Welcome back, Rob...!
The Storage Security Industry Forum (SSIF) announced the results of its Governing Board elections with Tony Cox, Cryptsoft, Chairman; Bruce Backa, NTP Software, Vice–Chairman; and Sue Gleeson, Oracle, Treasurer, elected by SSIF members. See SSIF Governing Board and find out more about SSIF and its KMIP program at http://www.snia.org/forums/ssif.
In addition, Glyn Bowden, a systems architect for HP EMEA, has recently been elected to the SNIA Cloud Storage Initiative Governing Board as HP joins the growing list of CSI member companies.
---
Updated Product Selection Guide Now Available
The Product Selection Guide (PSG) produced by SNIA's Data Protection and Capacity Optimization (DPCO) Committee is a valuable online resource for the data storage. The DPCO Committee has just completed a revision of the PSG to include more cloud–related products and software–defined–storage products. The updated guide can be found at http://sniadataprotectionguide.org.
---
Experts Needed to Present at Storage Developer Conference
Celebrating its twelfth year, the Storage Developer Conference (SDC) continues to be the only event created by storage developers for storage developers. SDC is now seeking storage development professionals willing to share their knowledge and experience by submitting a presentation proposal for consideration at SDC. The deadline for submissions is May 11. View the list of topics and submission process here.
---
Hot Off the Press: The 2015 SNIA Dictionary
Each year, SNIA puts together the SNIA Dictionary, a glossary of storage networking, data, and information management terminology. It is printed in hard copy in the Spring and is also updated online in the Fall. The 2015 SNIA Dictionary contains 327 pages of storage terminology and over 30 new terms have been added to this version.
The following SNIA volunteers contributed to this version of the SNIA Dictionary:Alan G. Yoder, Huawei, Lead; Mark Carlson, Toshiba; Fred Knight, NetApp; Bill Martin, Samsung; Carlos Pratt, IBM; David Thiel. The SNIA Dictionary is searchable online and is also available as a PDF download.
---
Linear Tape File System (LTFS) Customer Case Studies Available
SNIA's LTFS Technical Work Group collaborates with other industry associations, such as the LTO Consortium, to help educate and promote the value of Linear Tape File Systems (LTFS). SNIA just published a number of LTFS customer case studies where these customers use LTFS in the media and entertainment industry.
Learn how innovative tape storage technologies with Linear Tape File System (LTFS) can save costs and make tape usable in a fashion like disk or other removable media. With LTFS you can view tape video content with directory tree structures and have the ease of drag and drop capability.
View customer case studies here..
---
International News: SNIA Japan Visits New Data Centers

SNIA Japan Members during their visit to datacenter
Twenty-three members of SNIA Japan recently visited two new and important data centers. One was the Cybermedia Center at Osaka University, which is an eco–friendly data center and opens formally next month. The other was the Equinix Osaka Datacenter, which is an urban data center and specializes in co–location.
In This Issue
Presentations Available Now from the Data Storage Innovation Conference
New SNIA Leadership Positions Announced
Updated Product Selection Guide Now Available
Experts Needed to Present at Storage Developer Conference
Hot Off the Press: The 2015 SNIA Dictionary
Linear Tape File System (LTFS) Customer Case Studies Available
International News: SNIA Japan Visits New Data Centers
Vendor–Neutral SNIA Tutorials Needed for Upcoming Events
SNIA Webcasts and Education:
Webcast: Solid State Storage Summit
April 21–22, 2015
SNIA and Evaluator Group will be co–sponsoring a 2–day webcast event, the Solid State Storage Summit. Insights into how Solid State works, how to evaluate performance, and what is coming next is required in any IT adoption strategy. Join industry experts as they discuss what is here today, what is coming with future technology, and how to best determine your storage strategy. Day 1 will focus on Systems and Day 2 will focus on Components.
---
Webcast: Hybrid Clouds: Bridging Private & Public Cloud Infrastructures
March 18, 2015
Every IT consumer is using cloud in one form or another, and just as storage buyers are reluctant to select single vendor for their on–premises IT, they will choose to work with multiple public cloud providers. But this desirable "many vendor" cloud strategy introduces new problems of compatibility and integration. To provide a seamless view of these discrete storage clouds, Software Defined Storage (SDS) can be used to build a bridge between them. This presentation explores how SDS can extend its reach into cloud deployments to support a hybrid data fabric that spans on-premises and public clouds.
---
Webcast: What's New with NFS 4.2
April 28, 2015
With NFSv4.1 implemented on several commercial NFS systems, along with a new Linux server and client, there is a continued growth of NFS usage in the IT industry. NFSv4.1, first introduced in 2010, meets many needs in the modern datacenter, but there are still technologies and advanced techniques that NFS developers want to deliver. This presentation covers a brief update of where we are with NFSv4.1 and more detail on the proposed features for NFSv4.2 that are currently being ratified at the IETF.
---
Webcast: Swift, S3, CDMI – Why Choose?
May 7, 2015
When customers ask for support of a given API, can a vendor survive if they ignore these requests? A strategy many vendors are taking is to support multiple APIs with a single implementation. Besides the Swift API, many support the S3 defacto and CDMI standard APIs in their implementation. Join this Webcast to learn:
What is needed for these APIs to co–exist in an implementation
Basic operations are nearly identical between APIs, but what about semantics that have multiple different expressions such as metadata?
Best practices and tips to implementing multiple protocols in your cloud storage solution
---
May 18–21, 2015
Sunnyvale, CA
SMI plugfests are held several times a year to test interoperability across SMI–S implementations, validate CTP test updates, and create proof–of-concept implementations of proposals for inclusion in the SMI–S standard. In addition, plugfests provide an opportunity to meet with peer developers and folks supporting commonly used CIMOMs. This plugfest will be hosted by NetApp.
---
Certification Training for the CompTIA Storage+ Powered by SNIA Certification
May 18–22, 2015
Colorado Springs, CO
This class will better prepare to do your job and to take the CompTIA Storage+ Powered by SNIA certification exam. SNIA Members receive a 10% discount on registration. Use code SpecialMemberDisc to receive the discount.
Find SNIA at these Events:
April 20 – 24, 2015
San Francisco, CA
RSA Conference creates opportunities for conference attendees to learn about IT security's most important issues through first–hand interactions with peers, luminaries and emerging and established companies. Marty Foltyn will represent SNIA at the conference — look for her at the OASIS booth.
---
April 27 – May 1, 2015
Las Vegas, NV
SNIA's Storage Management Initiative (SMI) will be representing SNIA as an exhbitor at Interop Las Vegas, a technology conference and expo series designed to inspire and inform the world's IT community. Look for new programs and networking opportunities that will help set your organization's IT action plan — and how SNIA can contribute.