February 5, 2015
SNIA Hosts Industry Track at USENIX FAST
SNIA is hosting an Industry Track made up of vendor-neutral SNIA Tutorials at the USENIX FAST '15 conference taking place February 16–19 in Santa Clara. The Industry track will be held as part of the technical sessions on Tuesday, February 17th. View the session abstracts here.
If you want to attend just the SNIA Industry Track, it is only $150 to register. We are also able to offer you a $75 discount on full registration for the conference. Use code W75FAST15SNIA to receive your discount. SNIA is also participating as a sponsor with a table–top presence, and invite attendees to visit us while you are there.
---
Presentations from SNIA Summits on NVM and Analytics & Big Data Now Available
During the SNIA Annual Members' Symposium which took place the week of January 19th in San Jose, SNIA hosted the co–located Storage Industry Summit on Non–Volatile Memory (NVM), and the Analytics and Big Data Summit. The Summits presented 2 days of content to more than 275 attendees. The presentations from each Summit are now available for download.
Click below to download the presentations:
---
Deborah K. Johnson Award Recipient Announced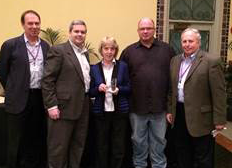 Left to right: David Dale, SNIA Chairman); Michael Meleedy, SNIA Business Services and Education Director; Nancy Clay SNIA Education Program Manager; Joseph White, SNIA Tutorial Chair; Leo Leger, SNIA Executive Director )
Announced during the SNIA Annual Members' Symposium was the recipient of the Deborah K. Johnson Memorial award. This year, we are proud to honor Nancy Clay, SNIA Education Program Manager, for her tireless devotion to the SNIA Tutorial Program. Nancy has managed SNIA Tutorial tracks and speakers for so many years, that Tutorials are almost synonymous with her name.
---
SNIA Member Recognition Honorees Announced
We would like to congratulate the 2014 honorees of the SNIA Member Recognition Program as were announced at the Annual Members' Symposium reception in San Jose on January 21st. Without their contributions, effort, time, and commitment, the vast majority of our organizational programs could not flourish.
Thank you and congratulations to our individual recognition categories and honorees:
Volunteer of the Year: Jim Ryan, Intel
Industry Impact Honoree: Eric Hibbard, Hitachi Data Systems
Industry Impact Honoree: Paul von Behren, Intel
Unsung Hero Honoree: Gene Nagle
View the group and other recognition categories, as well as the inductees to the SNIA Hall of Fame.
---
Showcase Your Product in the DSI Storage Innovation Spotlight Program
The Data Storage Innovation Conference (DSI) has created a new program to put a spotlight on new innovations in storage. This year we are offering the opportunity for storage innovators to present a brief overview of their innovation on main stage at DSI.
To qualify as a candidate for selection by our Technical Council:
Your product or service must have been on the market for less than two years
And, it must solve a commercial problem,
make an impact or change the marketplace into which it was introduced,
or create a new market.
If selected, the participant will receive a 10-minute main stage presentation slot for a Storage Innovation Spotlight session. Abstract proposals must be received through this link by February 18th. If you have any additional questions about the Innovation Spotlight please contact Arnold Jones at arnold.jones@snia.org or 407.574.7273
In This Issue
SNIA Hosts Industry Track at USENIX FAST
Download Presentations from SNIA Summits on NVM and Analytics & Big Data
Deborah K. Johnson Award Announced
SNIA Member Recognition Honorees Announced
Showcase Your Product in the DSI Storage Innovation Spotlight Program
One–Day Certification Training Offered in April
Storage Vendors - Act Now to Prepare for EPA Energy Star
New Article: Software Defined Storage in the Context of Software Defined Data Centers
SNIA Webcasts and Education:
Live Webcast: LTFS Bulk Transfer Standard in the Cloud
February 10, 2015
LTFS tape technology provides compelling economics for bulk transportation of data between enterprise locations and to and from clouds. This Webcast provides an update on the joint work of the LTFS and Cloud Technical Working Groups on a bulk transfer standard that uses LTFS to allow for the reliable movement of data and merging of namespaces. Register now to hear:
LTFS standard mandate and history
LTFS adoption and use cases
LTFS bulk transfer to, from, and between clouds
Error handling and recovery
Security considerations
---
Live Webcast: Benefits of RDMA in Accelerating Ethernet Storage Connectivity
March 4, 2015
Remote Direct Memory Access (RDMA) is gaining traction RDMA as a method for accelerating storage connectivity and interconnectivity on Ethernet. Join this live Webcast on March 4, 2015, as experts will cover:
Storage protocols that take advantage of RDMA
Overview of iSER for block storage
Deep dive of SMB Direct for file storage
Benefits of available RDMA technologies to accelerate your Ethernet storage connectivity, both iWARP and RoCE
---
March 9 – 12, 2015
Mountain View, CA and Beijing, China
SMI plugfests are held several times a year to test interoperability across SMI–S implementations, validate CTP test updates, and create proof–of-concept implementations of proposals for inclusion in the SMI–S standard. In addition, plugfests provide an opportunity to meet with peer developers and folks supporting commonly used CIMOMs. The next SMI Plugfest will be hosted by Microsoft.
---
Live Webcast: Hybrid Clouds: Bridging Private & Public Cloud Infrastructures
March 18, 2015
Every IT consumer is using cloud in one form or another, and just as storage buyers are reluctant to select single vendor for their on–premises IT, they will choose to work with multiple public cloud providers. But this desirable "many vendor" cloud strategy introduces new problems of compatibility and integration. To provide a seamless view of these discrete storage clouds, Software Defined Storage (SDS) can be used to build a bridge between them. This presentation explores how SDS, with its ability to deploy on different hardware and supporting rich automation capabilities, can extend its reach into cloud deployments to support a hybrid data fabric that spans on-premises and public clouds.
---
Certification Training for the CompTIA Storage+ Powered by SNIA Certification
March 16–20, 2015
Las Vegas, NV
This class will better prepare to do your job and to take the CompTIA Storage+ Powered by SNIA certification exam. SNIA Members receive a 10% discount on registration. Use code SpecialMemberDisc to receive the discount.
---
SNIA Webcasts Now On–Demand: