Welcome to SNIA Emerald

The purpose of the SNIA (Storage Networking Industry Association) Emerald™ Program is to provide public access to storage system power usage and efficiency through use of a well-defined testing procedure, and additional information related to system power. The measurement procedure, the SNIA Emerald™ Power Efficiency Measurement Specification, was developed and released, and is maintained by the Green Storage Technical Working Group under the guidance of the Green Storage Initiative (GSI) of the SNIA.
The SNIA Emerald™ Program provides a standardized way of reporting vendor-performed test results that characterize the several aspects of storage system energy usage and efficiency. The Test Data Reports (TDR) include measured test results that are based on performance and capacity metrics over a range of typical workloads.  The reports also reflect storage system's data protection and power-saving related product features. The TDRs are available in a public repository to aide IT decisions for power usage and efficiency for data storage solutions. The measurement procedure and test metrics are documented in the SNIA Emerald™ Power Efficiency Specification.   
The SNIA Emerald™ Program is also the focal point for the industry for the Test Report Program, the Recognized Tester Program, and technical training for the SNIA Emerald™ test methodology.  Storage vendors can download the SNIA Emerald™ Power Efficiency Measurement Specification and accompanying User Guide. Vendors and test labs can then test products and submit the results in accordance with the SNIA Emerald™ Program rules, which are available on the Test Data Report Template.
SNIA Emerald™ Power Efficiency Measurement Specification
The SNIA Emerald™ Power Measurement Specification identifies metrics by which energy consumption and efficiency of storage networking products can be measured for the purposes of new product development, end-user customer evaluation, and regulatory standards development.
Relationship with the USA Environmental Protection Agency (EPA) ENERGY STAR Program
SNIA has proactively established an industry working relationship with the EPA with their initial focus on data center products. SNIA's ongoing collaboration with the EPA has helped to shape the Energy Star Data Center Storage (DCS) Specification. The EPA DCS specification references the SNIA Emerald Specification as the test and measurement methodology.  In this way, the SNIA Emerald™ Specification is a foundational building block upon which industry programs and activities are defined and prescribed as seen in the diagram below.
"The EPA ENERGY STAR program is very supportive of the SNIA work on the storage system taxonomy and the test measurement methods contained within the SNIA Emerald Power Efficiency Measurement Specification," said Robert J. Meyers, Data Center Products Lead, EPA ENERGY STAR. "They form an excellent starting point in the industry effort to understand and improve storage system energy efficiency. Additionally, the data generated using the Emerald test method will help drive a wider industry discussion on energy efficiency, testing methods, and efficiency metrics."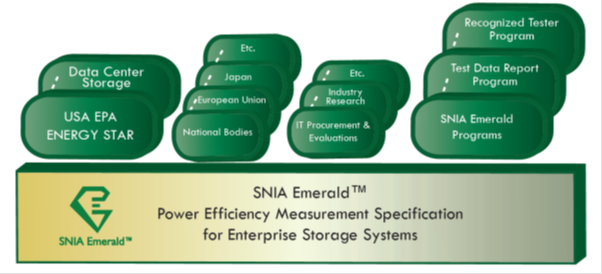 Figure: SNIA Emerald™ Specification is an Industry Building Block