July 15, 2015
Storage Developer Conference Agenda is Now Available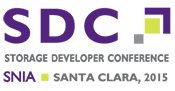 Storage Developer Conference (SDC) 2015 is scheduled for September 21–24, 2015 in Santa Clara, CA, and is again expected to attract more than 400 developers, technical professionals, and engineers from the worldwide storage community.
The SDC 2015 agenda is now available. This year, the agenda includes three tracks dedicated to Disruptive Technologies:
These sessions will help you learn how to prepare for the impact of these technologies.
The agenda covers many more topics, including File Systems, Software Defined Storage, SMB, Security, Performance, and more. View the full agenda here.
---
SNIA Hosts Data Storage Security Summit

Taking place on September 24th in Santa Clara, CA, the one–day Data Storage Security Summit produced by SNIA is designed to help attendees sharpen their focus and raise their data security IQ.
The preliminary agenda is now available and it includes general sessions by industry experts and breakout sessions featuring SNIA tutorials as well as roundtable discussions which will offer best practices on security breaches, security in the cloud, IoT, privacy issues, big data, and more. Registration is now open.
---
Calling Storage Subject Matter Experts – Help Develop SNIA's New Storage Certification Exam
SNIA is embarking on the development of a new Storage Networking Certification and your expertise is essential to producing a contemporary Storage examination.
Our Certification agreement with CompTIA for the CompTIA Storage+ Powered by SNIA credential is ending in January of 2016. SNIA is building a new, vendor–neutral certification examination that will cover storage technology basics to the latest topics, such as solid state, cloud storage, and software defined storage.
The new examination is scheduled to be released in mid–January, 2016. It will validate skills and knowledge in enterprise storage architectures and information management. This certification will be the foundation for higher–level and specialty certifications within the SNIA credentials ecosystem. The examination will be available globally and is scheduled to be translated in select markets.
We are looking for Subject Matter Experts (SMEs) who can validate the skills and knowledge required to perform the tasks of a storage administrator, and who have extensive experience in networked storage, information management, data protection, storage virtualization, solid state and flash storage, storage security, cloud storage, and software defined storage.
More information can be found here and in our FAQ document.
---
SNIA Europe Partners with Cloud Expo Europe Frankfurt
SNIA Europe is pleased to announce its partnership with Cloud Expo Europe Frankfurt – Germany's largest cloud–focused exhibition and conference. The two–day event takes place at Frankfurt Messe and aims to cover the IT industry's upcoming cloud technologies and business solutions.
Cloud Expo Europe Frankfurt will feature a world–class conference, made up of 200 expert speakers, including top CIOs, acclaimed global cloud leaders and cloud gurus. The conference will cover the most important industry topics: Cyber Security, Private and Hybrid Cloud, The Internet of Things, Big Data and Analytics, Virtualization, and Infrastructure, Cloud Applications, Management and Services, Service Providers, Storage, Platforms and BYOD, and Software Defined Networks. Passes are complimentary for senior IT decision–makers. SNIA Europe will be represented and will contribute to the agenda with its leading experts that will include SNIA tutorials.
SNIA Europe has also negotiated a very attractive program for its members: Click here for details of the discounted Premium Gold Sponsorship. This provides a discount of 50% and the benefits and entitlements of Gold Sponsorship for the price of the Silver Sponsorship package.
---
New e–Book: Storage Foundations Exam Study Guide
SNIA has recently partnered with renowned technical author, Hubbert Smith, to create an easily accessible e–Book which will serve as preparation materials for SNIA certification exams. The e–Book is high in quality content, easily accessible from most e–Book platforms, and affordable. SNIA is pleased to provide new materials into our growth markets of India and Asia and expects this e–Book will benefit students in those regions. Preview and purchase the book here.
In This Issue
Storage Developer Conference Agenda is Now Available
SNIA Hosts Data Storage Security Summit
Calling Storage Subject Matter Experts – Help Develop SNIA's New Storage Certification Exam
SNIA Europe Partners with Cloud Expo Europe Frankfurt
New e–Book: Storage Foundations Exam Study Guide
SNIA Emerald™ v2.1 Training Takes Place on July 20–21, 2015
Simple Storage Management (SSM) Model Extends and Simplifies SMI–S Participation
Featured Article: Object Drives in the Enterprise
SNIA Webcasts and Education:
SNIA Tutorial Member Peer Review – Flash Memory Summit
July 1–17, 2015
The SNIA Education Committee needs tutorial reviewers. Be the "Voice of SNIA" and review tutorials submitted for the Flash Memory Summit "Tutorial Day" on August 10th. This review ensures high quality and vendor neutrality for our presentations. . Please answer the call to participate here. For questions, contact Nancy Clay at nancy.clay@snia.org.
---
Upcoming Webcast Summit: Hyper–Converged Summit
July 21, 2015
SNIA and Evaluator Group are teaming up on July 21st for an educational, vendor–neutral event on Hyper–Convergence. As IT organizations are driven to provide higher levels of service and improved storage efficiency, hyper–converged solutions have become a popular alternative. Attend this summit to hear experts address the key benefits, concerns, and considerations for this new offering. Visit the Summit Page for more information and to register.
---
Upcoming Webcast Summit: Business Continuity Planning and Risk Management
July 21, 2015
Join this summit to discover the latest data backup monitoring trends and advances in managing business risk.
---
Upcoming Webcast: Storage Performance Benchmarking: Introduction and Fundamentals
July 30, 2015
This Webcast will provide participants with a solid base in the art of storage performance benchmarking. Gain an understanding of the complexities of benchmarking modern storage arrays, key terminology, why the "right" metrics matter, and more.
---
The SNIA Storage Management Initiative SMI–LAB Plugfest
August 3–6, 2015
Colorado Springs, CO
SMI–Lab Plugfest participants are positioned to gain a competitive edge by testing and troubleshooting their SMI Client and Provider implementations. The August Plugfest includes interoperability testing using the CIM–RS protocol, determining a method for SMI Clients to understand the state of objects through indications and diagnostics (Alert Indications) and discussion and feedback sessions leading to the development of use cases for the SSM (Simple Storage Management) hackathon event later this year. Contact tom.mancuso@snia.org for participation information.
---
Certification Training for the CompTIA Storage+ Powered by SNIA Certification
August 24–28, 2015
Colorado Springs, CO
Gain a solid understanding of storage networking technologies and better prepare yourself to take the CompTIA Storage+ Powered by SNIA Certification (SGO–001) exam in this fast–paced 4½–day class. This class will contain a "hands–on" configuration component, so students get to experience the curriculum both in theory, and in practice. View details here. This class will better prepare you for your job and to take the CompTIA Storage+ Powered by SNIA certification exam. SNIA members receive a 10% discount on registration by using the code SpecialMemberDisc.
---
On Demand Webcast: The 2015 Ethernet Roadmap for Networked Storage
Ethernet is changing in big ways and the Ethernet Alliance has captured the latest changes in the 2015 Ethernet Roadmap. SNIA is pleased to welcome an expert panel from the Ethernet Alliance to present the Ethernet Alliance's 2015 Ethernet Roadmap for the networking technology that underlies most of future network storage. This Webcast includes a discussion of developments in NVM — most recently 3D Flash.
---
Now Available: SDC India Presentations
SDC India's inaugural May 29th event was a success. Check out the presentations now available online.
Find SNIA at these Events:
July 20–24, 2015
Portland, OR
OSCON is about real–world practices and how to successfully implement open source. SNIA Executive Director, Leo Leger will be attending.
---
Flash Memory Summit "SNIA Tutorial Day"
August 10, 2015
Santa Clara, CA
Join the SNIA Flash Memory Summit Tutorial Day before the Flash Memory Summit starts! Topics covered will include: Case for Flash Storage – How it Can Benefit Your Enterprise; Separate vs. Combined Server Clusters for App Workloads and Shared Storage; Object Drives: A New Architectural Partitioning; Flash Storage for Backup, Recovery and DR; Utilizing VDBench to Perform IDC AFA Testing; NVDIMM Cookbook – A Guide to NVDIMM Integration. View details here.