SMI-Lab Program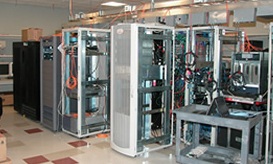 The SMI-Lab program is an industry-wide collaborative
   program that helps companies accelerate the
   development and implementation of SMI-S based Client
   and Provider products from SNIA member companies.
   SMI-Lab is included in SMI membership.
Next Plugfest: January 24 - February 02, 2017. SMI-Lab17 Plugfest #1 will be in a new format that will span a two-week period starting with virtual plugfest meetings, January 24 -26 and finishing with face-to-face testing and meetings, from January 30 through February 2 (more details to be announced). Register     

View a video about SMI-Lab.
---
► Consult the SMI-Lab Plugfest Schedule, and register for a plugfest.
► Read SMI-S for Data Collection of Storage Performance Metrics (revised), a white paper written by IntelliMagic.
► View past Plugfest Reports.

The program hasbeen successful in providing an environment that manages and coordinates vendors' development efforts to deliver SMI-S compliant products to market. Since April, 2004, SMI-Lab has enabled numerous companies to pass the SMI-S CTP tests to get hundreds of products certified.
SMI plugfests are held several times a year, usually at the SNIA US Technology Center in Colorado Springs, to test interoperability across SMI-S implementations, validate CTP test updates, and create proof-of-concept implementations of proposals for inclusion in the SMI-S standard. In addition, plugfests provide an opportunity to meet with peer developers and folks supporting commonly used CIMOMs.  View SMI-Lab Plugfest Schedule.