SSSI Workload I/O Capture Program (WIOCP)
Learn about the metrics provided by the WIOCP in this white paper!
The WIOCP was a project undertaken by the SNIA SSSI to collect contemporary I/O operation performance metrics.  A primary goal was the use of these metrics to help better understand the particular I/O characteristics of various applications.
The collected metrics reflect the actual I/O operation activity performed during normal application/workload usage spanning both current client/consumer and enterprise systems.  These systems include desktops and laptops as well as servers, including those running within virtual machines.
The WIOCP has provided unique, empirical I/O operation performance metrics for analysis by various SNIA Technical Work Groups, such as the Solid State Storage (SSS) TWG, to gain insights into workload I/O characteristics, key performance metrics, and SSS design opportunities and considerations.
The I/O metrics collected by the WIOCP are available for free public download from the SNIA IOTTA Repository.
Additional background information about the WIOCP can be found within the "SSSI WIOCP FAQ" document.
To learn more about the particular I/O metrics collected by the WIOCP, see the "Introduction to the SSSI WIOCP I/O Metrics" whitepaper.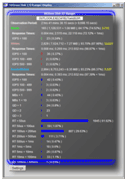 If you have any questions or comments, please contact: sssi_techdev-chair@snia.org