Computational Storage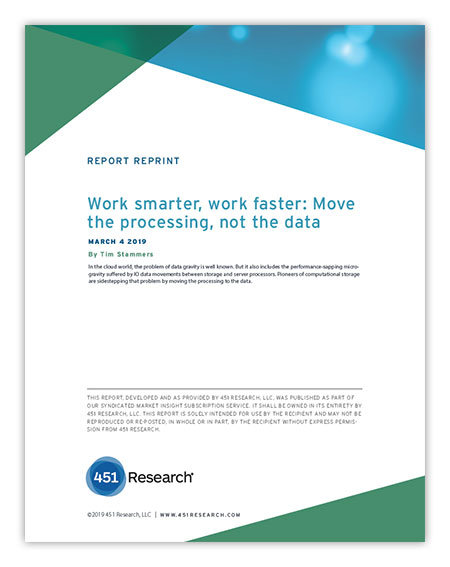 Work smarter, work faster: Move the processing, not the data
By Tim Stammers, 451 Research
March 2019

The SNIA Computational Storage Technical Work Group (TWG)  has been formed to create standards to promote the interoperabiity of computational storage devices, and to define interface standards for system deployment, provisioning, management, and security.  This will enable storage architectures and software to be integrated with computation in its many forms.  
The Computational Storage TWG: 
Acts as a primary technical entity for the SNIA to identify, develop, and coordinate computational features to be added to storage devices.
Produces or extends interfaces to accommodate new features.
Promotes interoperability (for example plugfests) among devices and systems implementing a new computational storage feature.
Coordinates the submission of new feature proposals to standards groups (e.g., NVM Express, T10, and T13).
Creates software to encourage adoption of these updated features.
Will assist and cooperate with other SNIA Technical Work Groups, including the Security, Object Drive, and Scalable Storage Management TWGs, in their efforts to incorporate or manage these features, and will consider leveraging other SNIA TWG and Alliance partner work
The industry is seeing an increase in customer requirements to move compute closer to traditional storage devices and systems.  In response, a growing number of data-driven applications have demonstrated that adding computation to the normal storage features of devices and systems can realize a significant performance and infrastructure scaling advantage. Computational Storage solutions typically target applications where the demand to process ever-growing storage workloads is outpacing traditional compute server architectures. These applications include AI, big data, content delivery, database, machine learning and many others that are used industry-wide. 
Founding members of the SNIA Computational Storage TWG include Arm, Eideticom, Inspur, Lenovo, Micron Technology, NetApp, NGD Systems, Nyriad, Samsung Electronics, ScaleFlux, SK hynix, Western Digital Corporation, and Xilinx.  
Recent activities include an introductory session and panel at the OCP Global Summit, and a presentation on the TWG.
For more information, read the Press Release and the June 2019 article What's up with computational storage by Daniel Robinson, Blocks & Files