Persistent Memory Programming Bootcamp & Hackathon Program

The Persistent Memory (PM) Programming Bootcamp and Hackathon Program, developed and sponsored by the SNIA Compute, Memory, and Storage Initiative, is designed to help software developers understand the various tiers and modes of PM and what existing methods are available to access them.  Participants leave the Program with a better understanding of how to use existing Application Programming Interfaces (APIs) to program Persistent Memory, as well as where further research and development might be of benefit.
You won't want to miss great new opportunities in the last quarter of 2020 to program dedicated persistent memory systems.  Bookmark the SNIA ComputeMemory&Storage Blog for news, and subscribe to the SNIA Matters newsletter.
Thanks to all who attended the Persistent Memory Bootcamp and Hackathon at the SNIA Storage Developer Conference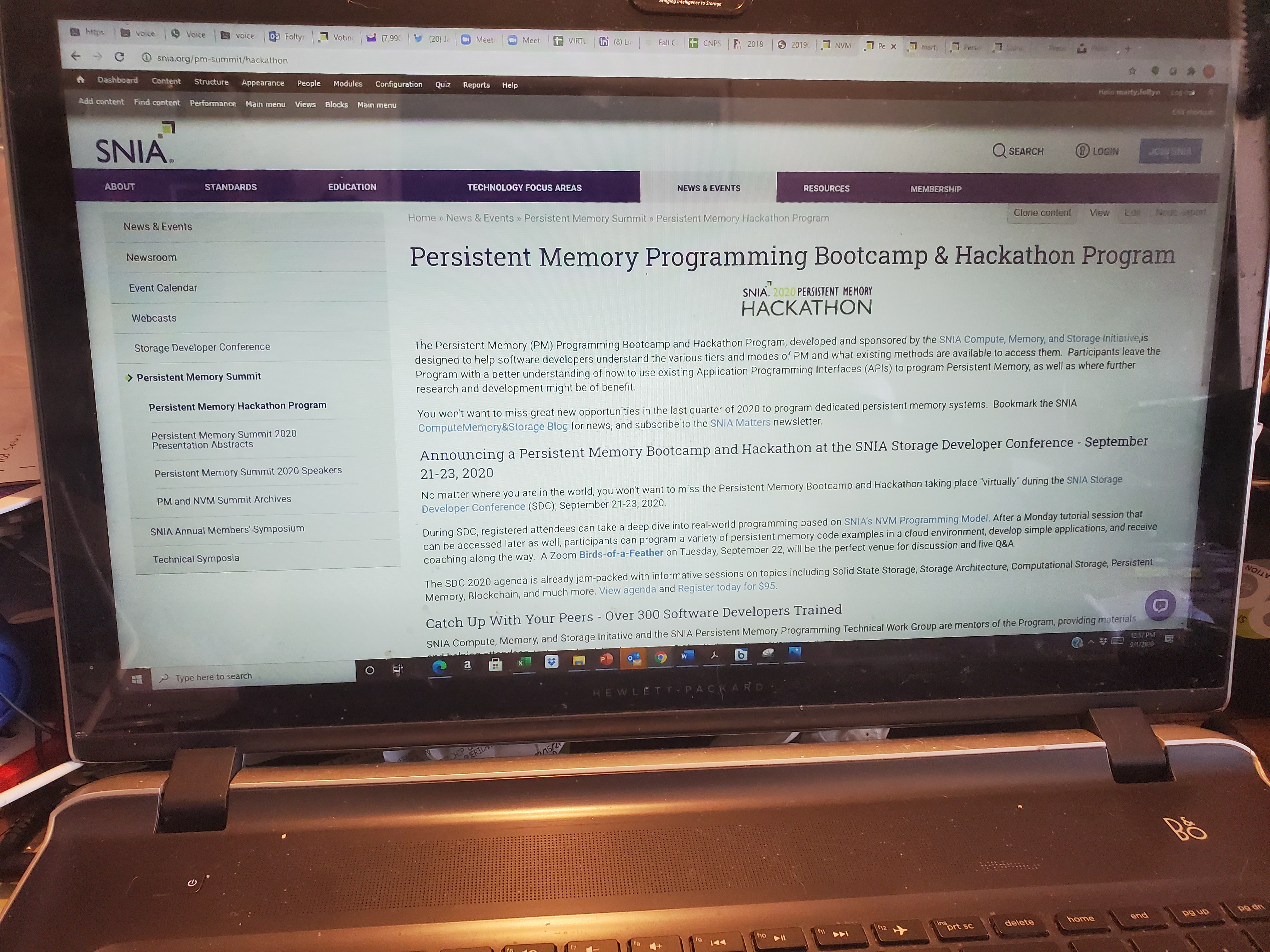 During SDC, registered attendees took a deep dive into real-world programming based on SNIA's Persistent Memory Programming Model, with a tutorial session, and access to program a variety of persistent memory code examples in a cloud environment, develop simple applications, and receive coaching along the way.    
Bookmark this page and stay tuned for our next event at Flash Memory Summit 2020! 
Catch Up With Your Peers - Over 300 Software Developers Trained
SNIA Compute, Memory, and Storage Initative and the SNIA Persistent Memory Programming Technical Work Group are mentors of the Program, providing materials and helping attendees develop sample code based on open-source PM found in the Linux Kernel, PMDK.io and other interfaces.
The Bootcamp and Hackathon course materials (tutorials and source code) have been continually updated and enhanced since the Program was launched in 2019.  We thank the companies who have and are providing persistent memory access and systems, including AgigA Tech, Google, Intel, SMART Modular, and Supermicro.  We are pleased to provide in Q3&4/2020 the latest persistent memory technology in our cloud-based systems. 
We thank the over 300 software developers who have participated in successful Hackathon events at the SNIA Persistent Memory Summits, the Non-Volatile Memory Workshop at University of California San Diego, the Global Data and Storage Summit in Xian China, Flash Memory Summit, and the SNIA Storage Developer Conference.  We congratulate the winners of the NVDIMM Programming Challenge, featured at the 2020 SNIA Persistent Memory Summit.
Questions?  Contact our team at PMhackathon@snia.org.