Persistent Memory Programming Workshop & Hackathon Program
The Persistent Memory (PM) Programming Workshop and Hackathon Program, developed and sponsored by the SNIA Compute, Memory, and Storage Initiative, is designed to help software developers understand the various tiers and modes of PM and what existing methods are available to access them.  Participants leave the Program with a better understanding of how to use existing Application Programming Interfaces (APIs) to program Persistent Memory, as well as where further research and development might be of benefit.
Our Perisstent Memory Hackathon Program is moving to a new co-location facility.  We will launch the new dedicated persistent memory systems via our 24/7 online environment in the Fall of 2022, so stay tuned!
Get ready for the Persistent Memory Workshop and Hackathon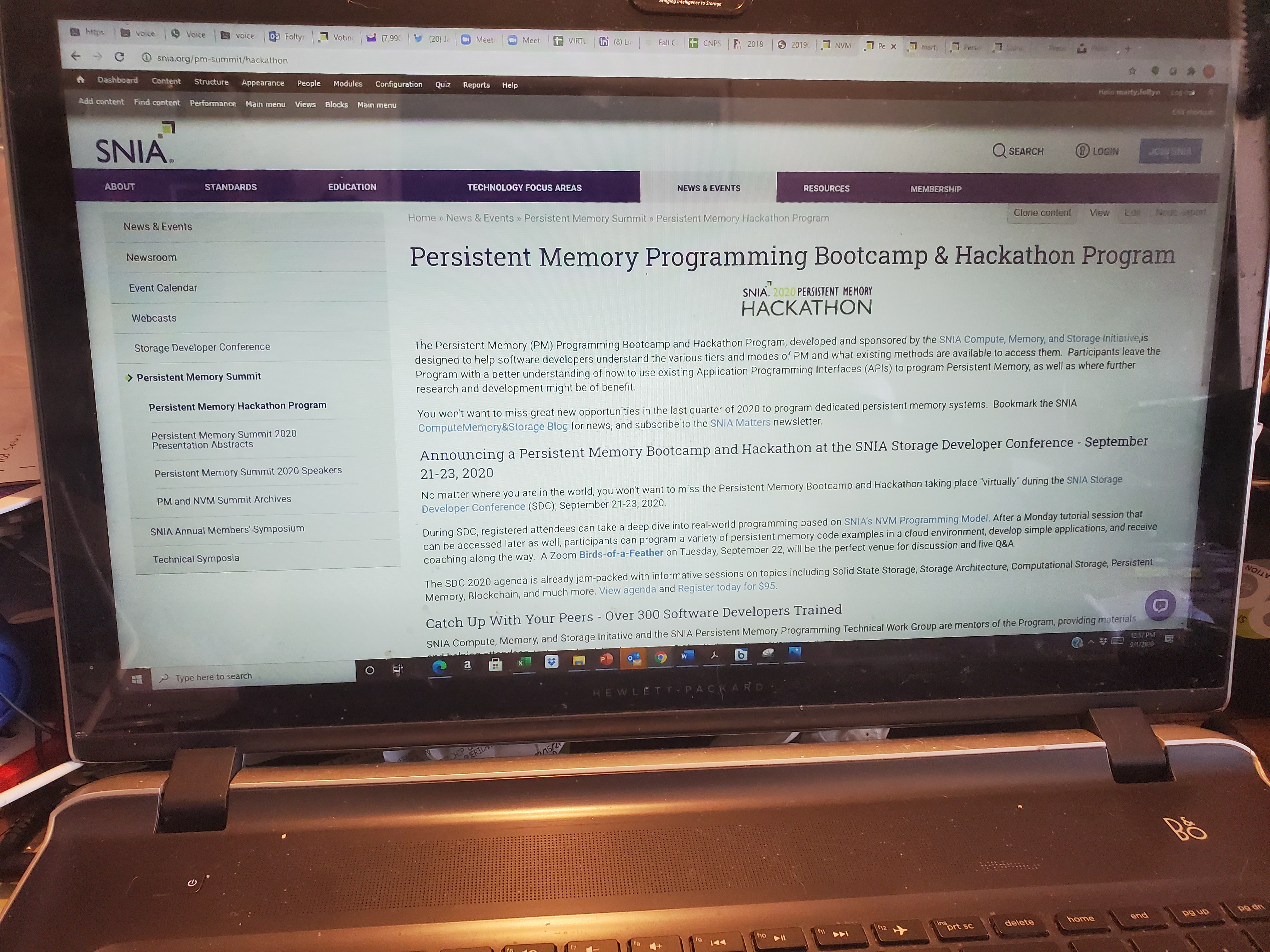 Watch the tutorial above on Getting Started with Persistent Memory Programming to get an overview of how the Hackathon works.  You can also view the tutorial in the SNIA Educational Library which has many other presentations on persistent memory. Also check out the Persistent Memory playlist on the SNIA Video YouTube Channel for the latest knowledge on PMEM.  We'll have the new access instructions available shortly!
Catch Up With Your Peers - Over 400 Software Developers Trained
SNIA Compute, Memory, and Storage Initative and the SNIA Persistent Memory Special Interest Group are mentors of the Program, providing materials and helping attendees develop sample code based on open-source PM found in the Linux Kernel, PMDK.io and other interfaces.
The Workshop and Hackathon course materials (tutorials and source code) have been continually updated and enhanced since the Program was launched in 2019.  We thank the companies who have and are providing persistent memory access and systems, including AgigA Tech, Google, Intel, SMART Modular, and Supermicro.  The latest persistent memory technology resides in our cloud-based systems.