Education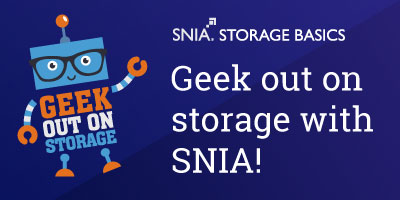 "Geek Out on Storage"
Need a refresh on some storage basics? Or want a 101 lesson on something new? Here's your chance to "Geek Out" on all the storage basics.
SNIA offers opportunities to learn about storage technology from a vendor-neutral perspective. Storage professionals are increasingly turning to independent educational programs to keep up with day-to-day demands and to plan for the future and to complement their existing product specialist skills.
The Storage Networking Industry Association has established the SNIA Education Program to expand educational opportunities and options available to end users and the broader IT industry. The SNIA Education Program leverages the strengths and successes of SNIA Education, SNIA Education Committee members, and the SNIA Technology Center.
Educational materials (such as White Papers, Case Studies, or Webcasts) specific to a particular Forum/Initiative can be found in the Knowledge Center for the related Forum/Initiative.