SNIA Hands-on-Labs Program
The SNIA Hands-On Labs Program continues to be a resounding success! Our next event is at the Flash Memory Summit August 4-7, 2014 in Santa Clara, California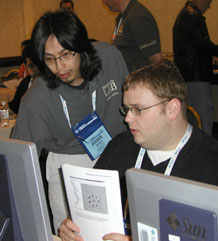 The Hands-On Lab Program delivers a unique experience designed to introduce exciting technologies and raise knowledge levels.) Conference attendees (storage practitioners, architects, sysadmins, systems engineers, and systems integrators) go "hands-on" with real- world exercises. Vendor participants deliver one-on-one education and training in a collaborative setting.
For Hands-On Labs at Flash Memory Summit, we are looking for technology vendors to sponsor labs in the areas of  Cloud Storage and Services, Data Protection and Disaster Recovery, Hybrid Systems and Storage, Non-Volatile Memory,  NVDIMM, NVM Programmingy, Persistent Memory, Software Defined Networks/Storage/Services, SSD appliances, and Testing and Performance.
For more information on participating in the SNIA Hands-On Lab Program, contact Marty Foltyn at marty@bitsprings.com.
Here is just a sample of the attendee comments from our recent HOL activities:
"It gave me the opportunity to get practice on storage virtualization without having to have a demo or testing phase at work," IT Manager, technology company in the Storage Virtualization lab
"Just having access to the equipment and being able to play / learn on it with a expert close by is fantastic," SAN Engineer, manufacturing company in the Unified Storage-IP Solutions Lab
"I loved the fact that the instructors spent one on one time with me," Storage Architect, retail company in the Solid State in the Enterprise Lab
"I found it useful to get hands-on with systems I don't usually see," Senior Designer, international manufacturing company in the Advanced Data Protection and Reduction Lab
"Gained an overall understanding of the process as we are planning on moving in this direction," Network Administrator, state government, in the Storage Implications for Server Virtualization Lab
"My favorite part was the inside information on virtual SAN." Systems Engineer, telecommunications company, in the Virtual SAN Lab
The latest Hands-On Labs featured these technology topics::
Active Archive
This Lab demonstrates different ways to overcome the storage challenges associated with breaking down "organizational silos" and building a cost-effective intelligent storage management strategy for big data and long-term data.  Participants will use the latest technologies to store and retrieve data efficiently. In addition, participants will learn methods to create a  storage platform that can work at an enterprise level for big data and long -term data.  Upon completion, you will better understand  how the solutions can be utilized for storing data which can be referenced later for comprehensive analytics and efficient centralized management.
Architecting and Implementing a Fibre Channel SAN
In organizations of all sizes, Storage Area Networks (SANs) are increasingly becoming the storage solution for business critical IT environments.  This Instructor-guided Lab introduces participants to what a SAN is and why it is appropriate in many situations, and guides them  through the steps required to set up, manage, test and monitor a simple Storage Area Network.  Upon  completion, participants will be able to create a SAN, initialize and configure SAN server and storage members, create LUNs and virtual drives, and execute SAN management commands
Innovations in Data Management and Disaster Recovery
This Lab introduces participants to innovative ways to modernize data management and recover from disasters  Participants will learn how solutions that incorporate global deduplication and deliver massive scalability can meet the challenges of today's data centers, and deliver advanced data resiliency for mission critical applications. Participants will learn how to deploy standards-compliant software and modular architectures in new network backup scenarios.   Participants will explore methods for disaster recovery.  Upon completion, you will have a better understanding of how to integrate these services into your business operations.
Solid State Storage
Discover where and how Solid State Storage (SSS) can be applied and what the benefits can be in this Hands-On Lab.  Exercises will guide participants through applications that implement solid state in arrays and at the host level to understand characteristics. New innovations, methods, and processes in solid state technology will be explored. You will also be introduced to the SNIA SSSI TCO Calculator for Enterprise SSS to observe the hard disk drive/solid state drive total cost of ownership.  Upon completion, you will better understand how to deploy Solid State Storage technology in your organization.
Storage Implications in Virtualization
With ever more focus on ROI and TCO, there is heightened interest in storage and server virtualization and its impact on SAN s and storage.    This Lab guides participants through exercises that illustrate SAN and storage connotations in establishing, maintaining, and optimizing a virtualized environment. Upon completion, participants will better understand a variety of server and storage virtualization activities,  and how to better utilize your  virtualized environment.
Strategies and Technologies for Data Protection and Business Continuity
This Lab introduces explores key strategies and technologies  to achieve data protection and business continuity.  Participants will explore solutions incorporating LTFS ease of use for immediate access in a scenario of generating, processing, and  protecting data .  Participants will explore solutions to transparently secure data in NAS and the key requirements for certification of data at rest protection.  Upon completion you will have a better understanding of how to apply tools, technologies, services, and techniques to reduce cost and risk and ensure business continuity.
 Contact hol@snia.org for more information on our Hands-on-Lab program.