What is SNIA Emerald™?
"Emerald" refers to the SNIA Emerald™ Program. The Program is the industry focal point for the SNIA Emerald™ Power Efficiency Measurement Specification and technical training for the SNIA Emerald™ test methodology. Version 3.0.3 of the Specification has now been published as ISO standard ISO/IEC 24091:2019 Information technology – Power efficiency measurement specification for data center storage.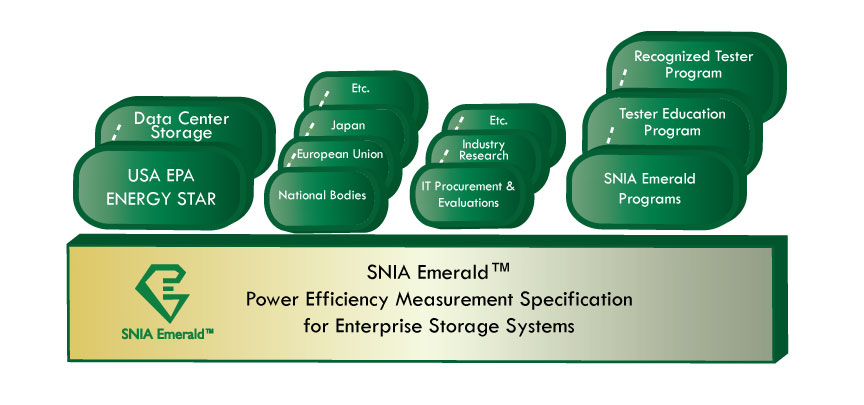 The SNIA Emerald™ Power Measurement Specification identifies metrics by which energy consumption and efficiency of storage networking products can be measured for the purposes of new product development, end-user customer evaluation, and regulatory standards development.  The United States Environmental Protection Agency (US EPA) Energy Star Data Center Storage V1.1 test specification is based on the SNIA EmeraldTM Power Efficiency Measurement Specification V3.0.3.  Vendor product test reports can be accessed here.
A comprehensive set of training materials addressing the SNIA Emerald™ Power Efficiency Measurement Specification, performing tests based on the Measurement Specification, and preparing and submitting test results are available.
Industry stakeholder meetings are held every year and presentations from these open forums can be found at this link.  
More information on SNIA Emerald can be found in the SNIA Technology Focus Area Power Efficiency Management.
Learn more about Power Efficiency Measurement in our Educational Library
---
Learn more about fundamental storage networking topics:
Cloud Storage Technologies
Data Governance, Privacy, and Security
Persistent Memory
Storage Management
Computational Storage
Networked Storage
Power Efficiency Measurement