Resources
SNIA has developed a wealth of vendor-neutral content on storage architectures, standards, and education. Check out the many videos, webcasts, white papers and more to learn about the technologies that are driving efficient management, movement, and security of information.
"Geek Out" on Storage Managment
Need to catch up on what's new in storage management? Here's your chance to "Geek Out" on SNIA Swordfish™ and gain insight into what it is and how it works with the DMTF Redfish® standard to provide a unified approach for the management of storage and services in the data center. 
Jump right in with a Swordfish overview and get a broad look at the specification, its features and profiles. Dive a little deeper and learn about open source projects that can help accelerate development of implementations, including the Swordfish Emulator or learn how Swordfish is growing to include full NVMe™ and NVMe-oF™ enablement.
There are a total of six videos and other helpful resources that will help you achieve storage management Super Geek status.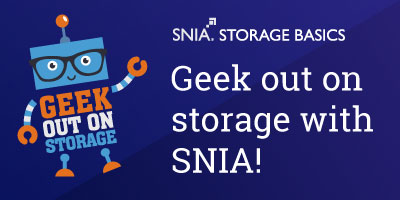 SNIAVideo on YouTube
The SNIAVideo YouTube channel features hundreds of videos covering a vast array of storage topics. From Persistent Memory to Cloud, Data Management to Power Efficiency--plus coverage from our global events--our channel offers news, education and insights for all levels of storage professionals.
---
Featured White Papers
---
Infographics
---
Social Media